Men Take Computer Science; Women Take Cooking Classes
Recent demographic data from online education company Coursera shows a gender divide in course enrollments.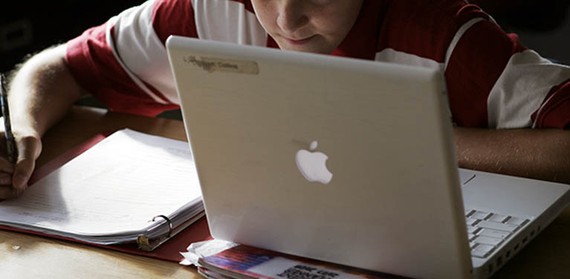 MOOCs are education's enigma. They were once trumpeted as the solution to rising education costs, as the revolution that would engage bored students and reach people around the globe. But low completion rates and poor results have plagued the courses, and now educators are wondering what sort of a role MOOCs will play a role in the future of education.
One way to understand what MOOCs can and cannot do is to look at who is taking them and what they are looking to learn. Coursera completed a demographic survey of over 200,000 of its students last fall, and they recently shared the results with me.
To some extent, the survey disproves the theory that MOOCs would engage disadvantaged, under-educated students. Almost three out of four enrollees are employed full time. Another 5.8 percent is retired. The average Coursera student is 37 years old.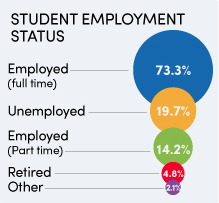 A lot of the data plays into gender and age stereotypes: Older students are interested in the humanities; younger students want to learn about computer programming. Women want to learn about childrearing; men want to learn about computer science. Ninety-five percent of the students who signed up for Principles in Scala were men. Meanwhile, in Child Nutrition and Cooking 2.0, women made up 80 percent of the class. The gender divide continues in other classes: The top ten classes with the highest percentage of men are all related to computers and programming.
In general, a staggeringly high number of students sign up for computer science related courses. 9.4 million students enrolled in a computer science class—that is almost two and a half times as many as the next most popular subject matter, the humanities. Computer courses tend to attract younger students; the top ten courses with the youngest students are all related to computers.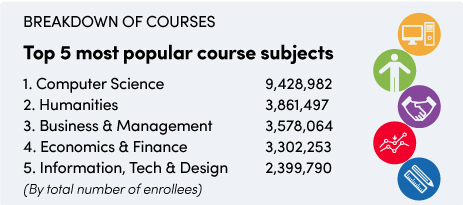 Older students gravitated towards the humanities. Modern & Contemporary Poetry, A Brief History of Humankind, and The Ancient Greeks rank among the classes with the oldest students. These classes reported average ages between 42 and 45.
Coursera offers a wide breadth of classes, the barrier to entry is minimal, and no one has to know what courses you are signing up for. These are characteristics that were supposed to level playing fields and break glass ceilings. Yet despite this anonymity and ease, stubborn patterns remain.