It's Oddly Difficult to Find Good College Advising Online
Why isn't there one comprehensive website that can help students with all steps of this challenging process?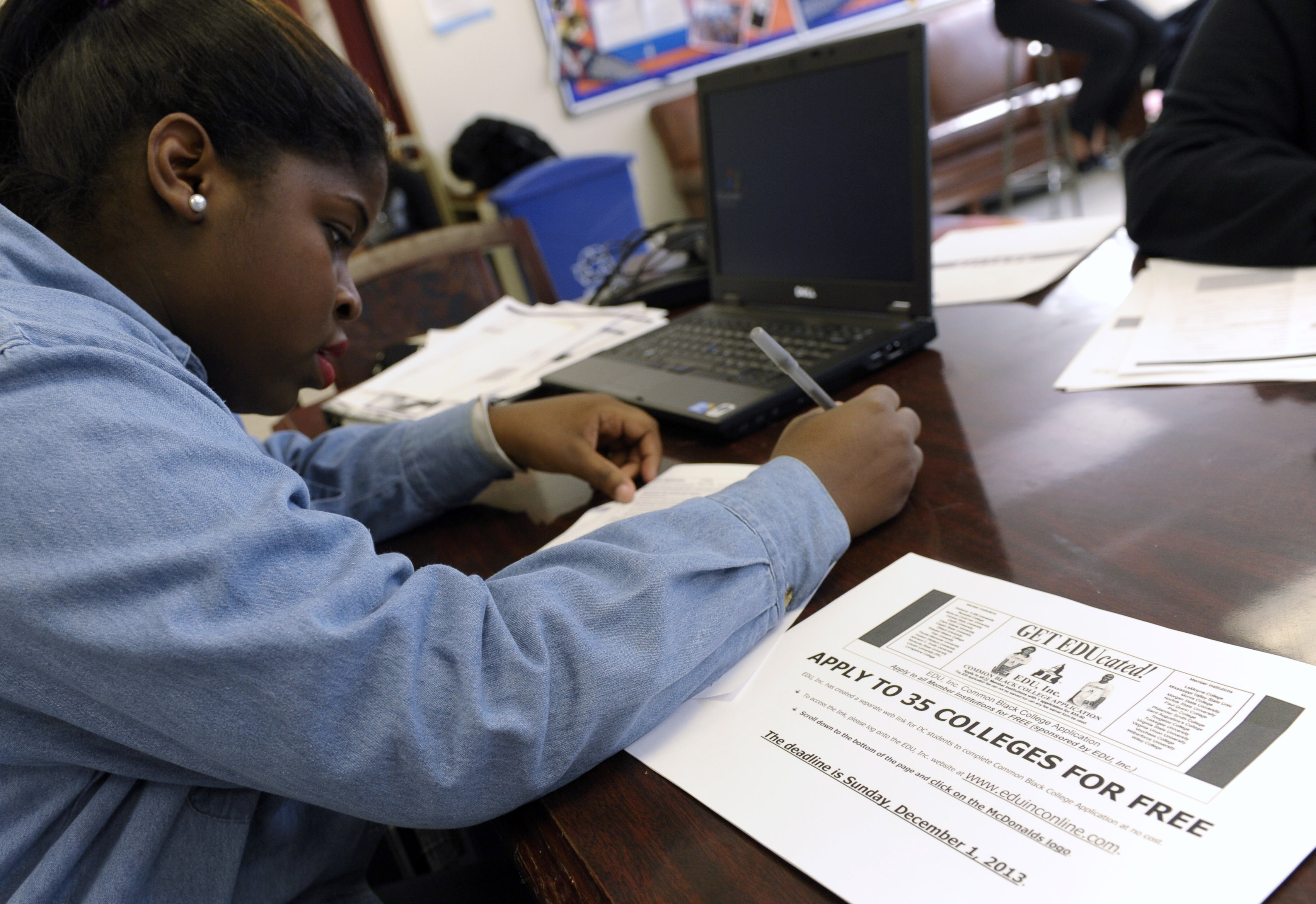 The college application process has grown into a complicated and daunting task for high school students across the country, and many low-income high schoolers have to figure out the admissions process on their own. For these disadvantaged students, finding trustworthy advice on the admissions process can be extremely difficult. Few high-need students receive personal college counseling in school; the rest are left to navigate the process alone. As a result, many high-achieving, underprivileged students end up applying to and attending community colleges or other less-selective schools instead of top-tier, selective schools.
This dearth of guidance for potentially college-bound students has inspired the creation of hundreds of online tools that aim to help students with applying to and attending college. However, many of these tools have been unsuccessful in helping applicants, especially low-income ones. The Get Schooled Foundation, a nonprofit that uses media and popular culture to encourage students to graduate from high school and succeed in college, looked at almost 200 college admissions technology applications and evaluated why they are failing to effectively help low-income students with the college admissions process. It's report, "How Is Technology Addressing the College Access Challenge?" reviews the gaps between what these students need and what is currently available.
The report found it is difficult to find a site that offers "end-to-end assistance," with many sites offering students help with just one small portion of the process. For example, College Application Wizard helps students navigate admission and financial aid applications, but the report notes it is "most useful" after a student has already decided what schools to apply to. Instead of going to one comprehensive site, students are left to sift through hundreds of educational tools of varying quality. Furthermore, some of these admissions and financial aid tools are "actually lead generators" for other businesses. For example, collegedata.com is owned by First Financial Bank and gives applicants information about market loans. Collegeloan.com shares applicants' information with banks and markets financial services to students. The report also notes that many of the better designed tools do not have a marketing or distribution strategy that engages the students who need help the most.
The report also found that few tools target younger students. Many sites focus on juniors and seniors, but research has found that preparing students during middle school and in freshmen and sophomore year can be critical to putting them on track to attend college.
Although there are many sites that try to connect students with scholarships, few explain financial aid in a clear and concise way. Similarly, most sites assume students have a baseline understanding of how college admission works; few tools aim to help students with no knowledge about college.
The report argues that technology could play a central role in closing the "counseling gap" between disadvantaged and privileged students. "While an in-person, knowledgeable counselor is preferred for every student, there is such a significant gap between the availability of such resources and what is currently needed," the report reads. "Technology can and should play a role in reaching more students with the information and support they need."
Many experts agree that quality advising is necessary to getting low-income applicants into selective schools, but technology may not be the only solution to closing the counseling gap. Somes high schools are recruiting college graduates to come back and help current high school students with the application process. Some cities have circumvented the need for financial aid guidance by promising students full college tuition. Providing quality information and advising online could be one step towards ultimately getting disadvantaged students to apply and enroll in college.