How Colleges Fail Black Football Players
At least half of black football players on the top-10 teams won't graduate within six years of enrolling.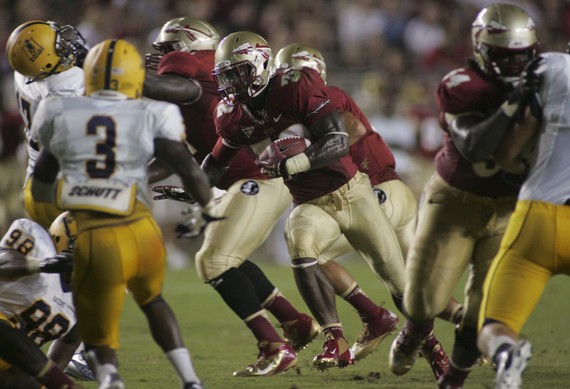 As the nation's top college football teams prepare to take the field for the elite bowl games, three new reports out this week raise similarly troubling concerns about dismal graduation rates for many of the black players constituting the bulk of the starting lineups.

While the formulas used in the three reports vary to some degree, the pictures painted are not dramatically different. First up: the University of Pennsylvania's Center for the Study of Race and Equity's report on football teams participating in the 2014 Bowl Championship Series. Based on completion rates across four cohorts (rather than focusing on a single year) at least half of the black football players won't graduate within six years of enrolling, the report concluded. That's compared in the report with "a graduation rate of 67 percent for student-athletes overall in the seven major NCAA Division I sports conferences." Take a look at the infographic for the 10 teams playing in the elite bowl games and national championship: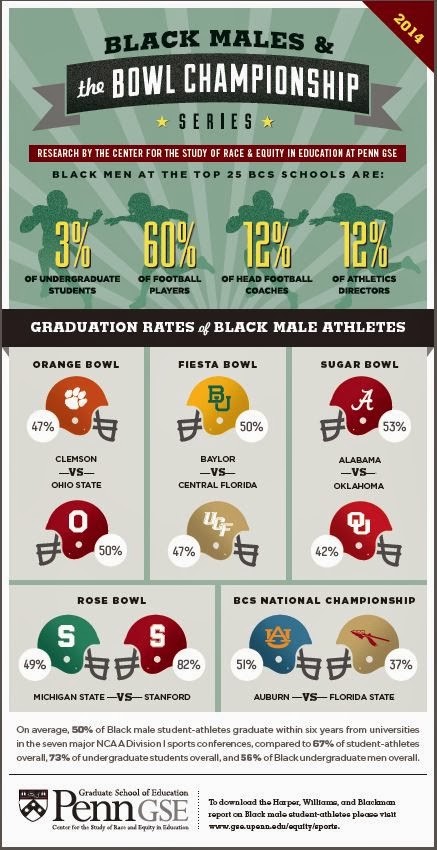 "In some instances, at Florida State University, for example, black men comprise nearly 70 percent of the football team, yet just over one-third of those black male student-athletes will graduate," said Shaun R. Harper, a professor in the Penn Graduate School of Education and the center's executive director. "These numbers are shameful. In my view, no team with rates this low for a population that comprises such a significant portion of the team should be allowed to play in any BCS Bowl. These schools and their athletic conferences must be held more accountable."
The graduation rate for black male undergraduates overall—56 percent nationally, according to the UPenn report—isn't that far off the poor showing for black student-athletes. In other words, many black men are struggling in college, whether or not they play sports. (I wrote recently about men of color and postsecondary success here.)
Eric J. Barron, Florida State University's president, took issue with his school's low ranking in the report. The six-year graduation rate for black football players who entered in 2006 is officially reported by the NCAA at 50 percent, Barron said in a written response to my request for comment. (Keep in mind that the NCAA percentage is for a single cohort. UPenn's four-cohort formula, which Harper contends is a more durable statistic, yielded Florida State's completion rate of 37 percent.)

"Nevertheless, that rate remains unacceptable, and that is why in recent years our university has taken aggressive steps to improve the academic success of our student-athletes," Barron said.

Among the steps Barron said he's already taken: Doubling the funding and size of the academic support programs for Florida State's student-athletes, and assigning a veteran associate dean to oversee their academic advising. Barron said he also "charged the newly hired athletic director with making the academic success of our student-athletes a priority." 

While many colleges and universities—like Florida State—are trying to improve completion rates for student-athletes, the two other reports on the bowl contenders make it clear there is significant ground to make up. (The UPenn report recommends strategies for improvement.)
The New America Foundation, a policy think tank in Washington, D.C., published the seventh edition of its Academic Bowl Championship Series on Tuesday, using a formula that weighs several factors, including a school's overall graduation rate, the size of its achievement gap for black players, and whether the team has made academic progress. The winner among the 25 top BCS schools this year was Duke University, followed by Northern Illinois University with Stanford University close behind in third.
Alex Holt, a program associate for New America's Education Policy Program, said the "completely unacceptable" 54 percentage-point racial gap in completion rates for Florida State's football team – black players were listed at 38 percent and white players at 90 percent – was the highest of all the ranked teams.
The third report is just as sobering. The Institute for Diversity and Ethics in Sports (TIDES) at the University of Central Florida published its 
annual report 
on academic achievement among bowl-eligible teams, and found significant racial gaps in the college completion rates for players. 
Richard Lapchick, the director of the institute and the study's lead author, said the poor graduation rates are rooted in the inadequate academic preparation black students are getting before they even get to college, the 
Associated Press reported
. (Lapchick makes a fair point, and it's one of the reasons why conversations around improving the pipeline from K-12 to higher education – for all students, and not just athletes -- are gaining momentum.)
To be sure, top-ranked football teams have produced their share of Academic All-Americans and standout students (Florida State's Seminoles can even 
claim a Rhodes Scholar
). But as the team stats in the three reports make clear, those individuals are the exception and not the rule.
Colleges are coming under increasing fire for allegedly exploiting student-athletes, from the risk of injury (football players 
aren't the only ones
 getting concussions) to the 
growing debate
 over whether they should be paid outright in recognition of the significant revenue generated by college sports. 
When colleges are criticized for not paying their athletes, the defense is often that the student is being provided with a scholarship and access to higher education, said 
David Leonard
, an associate professor of in the Department of Critical Culture, Gender and Race Studies at Washington State University, who writes frequently on these issues. But those same students are often put at a disadvantage academically because of missed class time due to travel, training and other required team activities.
If the chance at a postsecondary degree "is what students are exchanging for their blood, sweat and tears, then there needs to be a culture of accountability where colleges and universities are encouraging student-athletes to succeed," Leonard told me. "But in many ways the things that lead a football team to be successful on the field at aren't necessarily the things that lead an individual to be successful in the classroom."
Leonard adds: "The question that each university and their corporate partners in the sports media and in the bowl games have to ask themselves: What about the individual success of each player on these teams?"