College Presidents Make a Lot of Money—and That's Okay
A new report from The Chronicle of Higher Education shows that 42 presidents made more than a million dollars in 2011.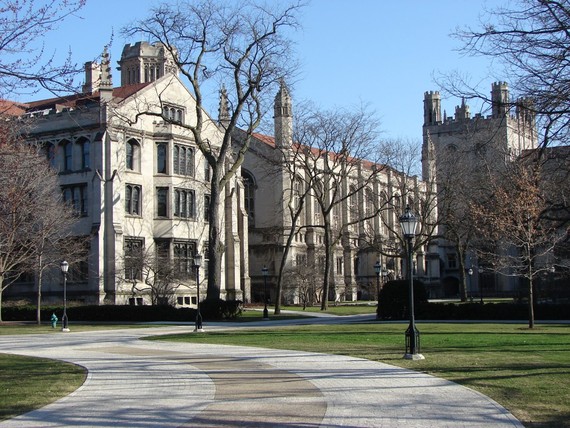 In the face of the student-loan crisis and the rising cost of college tuition, a recent report on the compensation of 550 private college presidents in 2011 can be hard to swallow. Some of the numbers are pretty big: The top five earners made more than two million dollars each. Forty two presidents made one million dollars or more. The typical private university president made $410,000, up 3.2 percent from the 2010 median.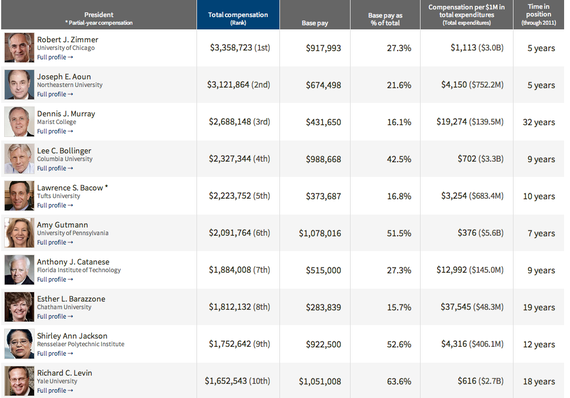 But this money makes up a small fraction of university expenditures. The report, from The Chronicle of Higher Education, helpfully lists the president's compensation as a fraction of his or her institution's total spending. For example, University of Pennsylvania president Amy Gutmann's salary ranks sixth in the country, but her salary only accounts for $376 out of every million dollars UPenn spends. Harvard's President, Drew Gilpin Faust, received $899,734 in compensation and ranks among the least-well-compensated presidents relative to budget. She earns $230 for every one million dollars of Harvard's expenditure.
Another thing to keep in mind here: The Chronicle includes delayed compensation in these calculations. Some of these numbers are inflated by bonuses presidents receive after a certain number of years in the position. The highest earner this year, University of Chicago President Robert J. Zimmer, earned $917,993 in base pay but more than $3.3 million in total compensation.
Regardless, these men and women are making big money running private universities, and students struggling to pay for textbooks might be frustrated by the substantial cash flow to their school's chief executive officer. At the same time, most university presidents could be making a lot more money running companies in the private sector. If universities are going to increase financial aid dollars, embrace new educational methods, and improve graduation rates, they need a capable, smart, and, yes, well-compensated president at the helm.