What Does It Take to Get Kids to Stop Skipping School?
A New York City pilot program found success by tracking and sharing student attendance data, assigning mentors, and communicating with parents.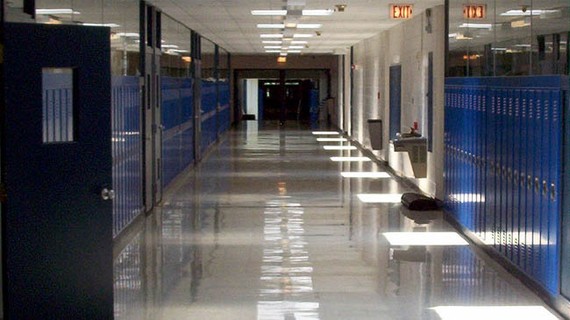 When it comes to tackling the problem of chronic absenteeism, students who already have a track record of skipping class can be a particularly tough crowd to sway. But a new report out of New York City—where one out of every five students missed a month or more of school last year—suggests an intensive community-wide initiative is gaining ground.

First, some background: chronic absenteeism is defined as missing at least 10 percent of the instructional days over the course of an academic year, which amounts to about 18 days in the average district. The national advocacy group Attendance Works considers chronic absenteeism as an early warning system that too many schools, parents and students are failing to heed.
Compounding the challenge, researchers say, is that the scope of the problem is largely unreported. That's because the statistic typically reported by schools is average daily attendance, which can mask the fact that many students are missing significant amounts of seat time. (I've written previously about some of the reasons why kids say they skip class, and the role motivation can play in their academic success). It's also important to note that it's not just the later grades that matter. A recent Chicago study found absenteeism in preschool contributed to social-emotional developmental delays as well as academic hurdles that students were still trying to overcome years down the road.
Now on to the New York City report, compiled by the Everyone Graduates Centerat Johns Hopkins University, which looked at the impact of a task force created by Mayor Michael Bloomberg in 2010 to address the city's high rate of school absenteeism. The task force's pilot program was aimed at at-risk students and launched with 25 high-need schools in its first year and has since grown to 100 schools with more than 60,000 students participating. The initiative crafted an intensive network of mentors, support services, staff training, better tracking and sharing of data of individual student attendance, and community outreach—particularly to parents.
Among the key findings of the report:
Students living in poverty were 15 percent less likely to be absent at the task force schools than their peers at similar campuses. The gains were even greater for students living in temporary shelters—they were 31 percent less likely to be absent. The city's Department of Homeless Services was given access to student data and staff received specialized training and support. One city official told the researchers, "It seems like common sense, but until now we just didn't have the tools, data, or knowledge to do it," according to the report.
Assigning mentors to work one-on-one with students was the most successful intervention, with kids adding an average of nine days (nearly two full school weeks) of attendance per school year. High school students working with mentors were 52 percent more likely to be enrolled the following academic year than their comparison peers, suggesting the program also contributed to dropout prevention.
Students who were chronically absent in the 2009-10 academic year at the task force schools were 20 percent more likely to still be in school three years later when compared to similarly situated students at campuses that didn't participate in the task force's programs. That suggests the initiative was also effective as a means of dropout prevention.
A couple of takeaways that particularly caught my attention: The Johns Hopkins researchers point out that much of what the task force accomplished could be carried over into other cities, and be funded by reallocating existing resources—an important consideration for cash-strapped districts. What's also worth highlighting is that schools, public agencies, and community organizations effectively joined forces to focus their combined energies on a common goal. That kind of multi-pronged approach is critical, the report's authors concluded, noting that "no school system can tackle this problem alone."
Should any of this be a surprise? Probably not to researchers and policymakers who are increasingly focusing on the growing body of evidence about the long-term effects of even short-term absenteeism. Will it raise the volume on calls for more interventions and programs targeting what many educators consider to be an under-addressed factor in student success? That remains to be heard.