The Year America Couldn't Decide When to Have Thanksgiving
In 1939, President Franklin D. Roosevelt moved the holiday, dividing a nation and breaking the heart of at least one college student.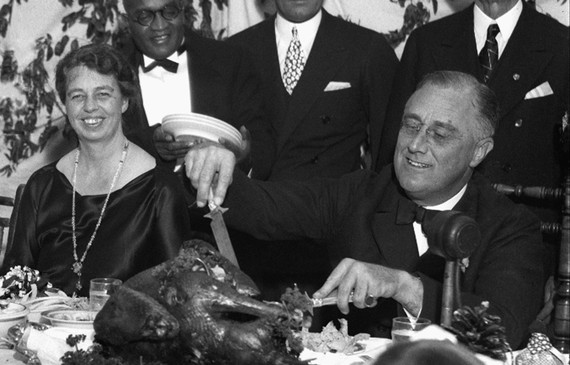 American Thanksgiving is the fourth Thursday in November. Countless institutions depend on this date being predictable year in and year out: football teams planning their "Turkey Bowl" games, schools setting their vacation schedules, department stores deciding when to put up their Christmas decorations.
But the Thanksgiving date wasn't always so reliable. For decades, the president got to decide when the holiday fell each year. They tended to follow the example of Abraham Lincoln, who in 1863 set Thanksgiving on the final Thursday of November—until Franklin D. Roosevelt went rogue. In 1939 there were five Thursdays in November, so according to Lincoln's example, Thanksgiving would have been on the last day of the month. Roosevelt worried that such a late Thanksgiving would mean that Christmas shopping season would be too short, which would be hard on merchants already hurting from the Great Depression. So he declared that Thanksgiving that year would fall on the second-to-last Thursday, November 23rd.
Though the change was intended to help a struggling nation, it ended up dividing the country. Twenty-two states refused to go along with Roosevelt's decision and instead celebrated Thanksgiving on the 30th. Almost all the other states sided with the president and feasted the week before. (Texas, Mississippi, and Colorado couldn't make up their minds and declared both the 23rd and the 30th holidays.)
For some college students studying away from home, the division over Thanksgiving caused a real problem: What if the state where they went to school celebrated Thanksgiving on one date, and their home state celebrated it on the other? They'd be stuck in class while their families enjoyed the meal together. Miss Eleanor Lucy Blydenburgh, a student at the Pratt Institute in New York (which celebrated Thanksgiving on the 23rd) who grew up in Connecticut (which celebrated on the 30th), expressed her "heart ache" at this situation in a letter to President Roosevelt: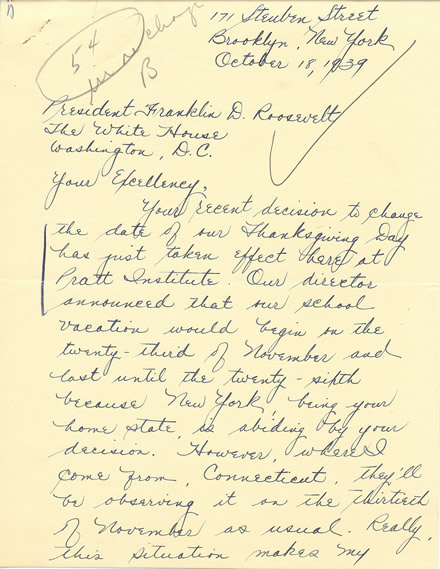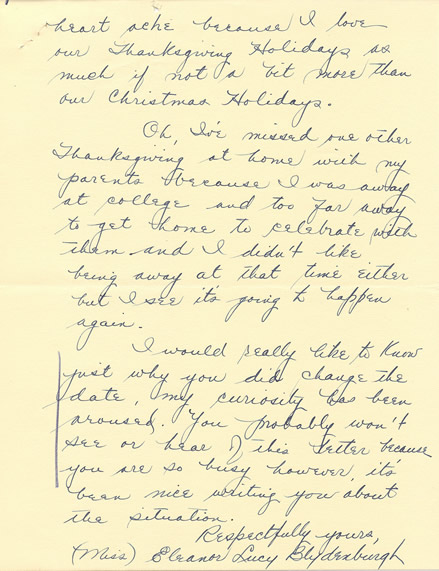 Your Excellency,

Your recent decision to change the date of our Thanksgiving Day has just taken effect here at Pratt Institute. Our directors announced that our school vacation would begin on the twenty-third of November and last until the twenty-sixth because New York, being your home state, is abiding by your decision. However, where I come from, Connecticut, they'll be observing it on the thirtieth of November as usual. Really, this situation makes my heart ache because I love our Thanksgiving Holidays as much if not a bit more than our Christmas Holidays.

Oh, I've missed one other Thanksgiving at home with my parents because I was away at college and too far away to get home to celebrate with them and I didn't like being away at that time either but I see it's going to happen again.

I would really like to know just why you did change the date, my curiosity has been aroused. You probably won't see or hear of this letter because you are so busy however, it's been nice writing you about the situation.

Respectfully yours,
(Miss) Eleanor Lucy Blydenburgh
Fortunately, the confusion only lasted a few more years. In 1941, Congress passed a resolution stating that Thanksgiving would be on the fourth Thursday of November, as it remains today. Now, the primary "heart ache" that college students experience this time of year is the romantic kind.