The Technology That Could Help More Community College Students Graduate
Only 20 percent of first-time students enrolled full time at public two-year colleges get an associate's degree in three years. Could web-based student advising help?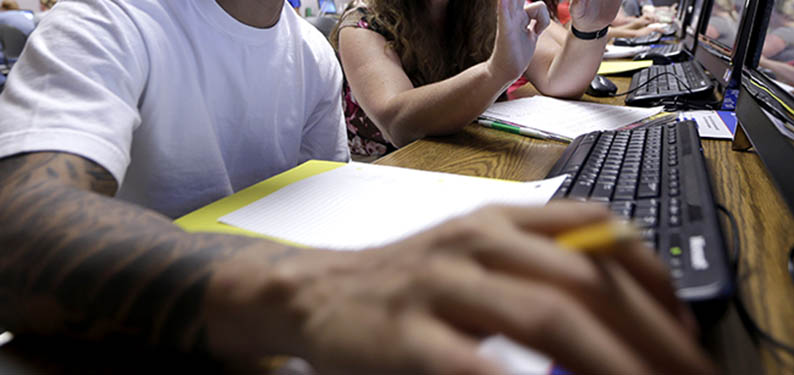 Community colleges are good at helping students who have a clear sense of direction. But the sprawling, underfunded campuses often offer little guidance for those who don't know what they want to study, or what to expect from college. Improving on-campus advising could become an imperative for two-year schools if the Obama administration's proposed college-ranking system ends up rewarding institutions for graduating students on time.
Software developed by Washington research and consulting company Education Advisory Board has 
helped four-year schools like Georgia State University
 increase graduation and retention rates. As the company tries to develop a similar product for two-year schools, it finds itself up against a much bigger challenge.
"We actually think that the moment where education is imperative, and currently lacking, is at the very beginning of a student's life cycle at an institution—really the intake process," says Sarah Zauner, research director of the Education Advisory Board's community college forum. The proposed tool would encourage students to define their goals, and then alert them when they veer off track.
Only 20 percent of first-time students enrolled full time at public two-year colleges obtain an associate's degree in three years, according to federal statistics. That metric doesn't figure in the students who transfer to four-year colleges, those who earn certificates, or the 59 percent of students who attend part-time. But it's clear that many students who enroll in two-year colleges don't reach the finish line.
Part of the challenge is that community colleges offer a wide range of programs to a wide range of students. Community colleges serve everyone from teens seeking college credits to working adults pursuing a credential that will get them promoted. Some students enroll ready for college-level work, while others must take developmental courses to catch up.
Between 1995 and 2009, 70 percent of new Hispanic and African-American college students headed to two-year colleges and open-access, four-year institutions, according to Georgetown University's Center on Education and the Workforce. Forty-four percent of community-college students are nonwhite, and in 2011-12, community-college students received 37 percent of federal Pell grants.
Two-year schools deliver this breadth of courses to this diverse student body on a minimal budget. The average public research institution spent about three times as much per student as the average community college in 2010, according to the 
Delta Cost Project.
 The ratio of students to advisers at the typical community college is 1,000 to 1.
Students are expected to largely figure things out on their own. "A lot of community-college students end up taking courses that don't count, either toward their degree in the community college, or, if they want to transfer somewhere, that their transfer school's not going to accept," says Shanna Smith Jaggars, assistant director of the Community College Research Center at Teacher's College at Columbia University.
That's a huge problem when students are dependent on Pell grants, which have a lifetime maximum. "There are major consequences to making poor decisions on what courses you're going to take," Jaggars says. Students who switch to a totally different major may have to drop out.
For four-year schools, the Education Advisory Board has developed a Web-based product that alerts advisers when students fall off-course for on-time graduation. Advisers are immediately told when a student fails to sign up for a required course, risks losing financial aid, or earns a low grade in a course foundational to his or her chosen major. Georgia State invested in the student tracking tool and hired 42 more advisers, to increase the school's ability to intervene at the first signs of trouble among its undergraduates.
But for two-year schools, the company is planning a tool that would primarily be used by students. The product—still in its early stages—would invite students to answer questions about academic strengths and interests, their family income and time constraints, and the degree or certificate they're aiming for. Based on that information, the tool would suggest majors and degree programs, and provide information on salaries earned by comparable graduates of those programs. The two-year product would alert students when they veer off course and give them advice, like directions to the campus tutoring center.
Ideally, the tool would also compile all that student data for administrators. The Education Advisory Board wants whatever they create to be able to work alongside the resources colleges already possess, including their administrative systems and the number of advisers they currently have on staff.
Many community colleges already have adopted "e-advising" systems, online resources that may help students plan a course schedule, or have an early warning component. Jaggars says that there's one big problem with such systems: Not all students use them. It's important to remember, for example, that many community-college students don't have a computer at home.
Online advice and interactive tools help, but for students who need the most direction, there's no replacement for a conversation with a knowledgeable human being. Michigan's Macomb Community College recently asked Jaggars and her team to help them give students clearer information, and the researchers' advice included freeing advisers to spend less time dealing with the logistics of enrolling students in courses and more time helping them set goals.
"I definitely got a sense from a lot of students that even if the information that was available was really clear and easy to understand, they still liked to have some kind of a person" to go to with questions, Jaggars says of Macomb's online information. There's a social component to navigating college. Sometimes students just need to feel like they have an ally, someone who is looking out for them. Faculty as well as advisers can play that role.
Ultimately, a successful advising product will have to be really, really useful—so useful that community college administrators believe it's worth the cost, and so useful that students are compelled to interact with it, and respond to its prompts.
That's a high bar for any company to reach. "Unless they really deliver, and deliver an integrated solution that works with what we already have—and doesn't require students to have access to computers—it will be tough," LaGuardia Community College President Gail Mellow says of new technologies. If she were to spend money on technology, she says, she'd almost rather spend it on lengthening computer-lab hours, to make it easier for students to use the printer.