The School That Won't Let Students Play Tag or Hold Hands
Will regulating recess turn kids into robots?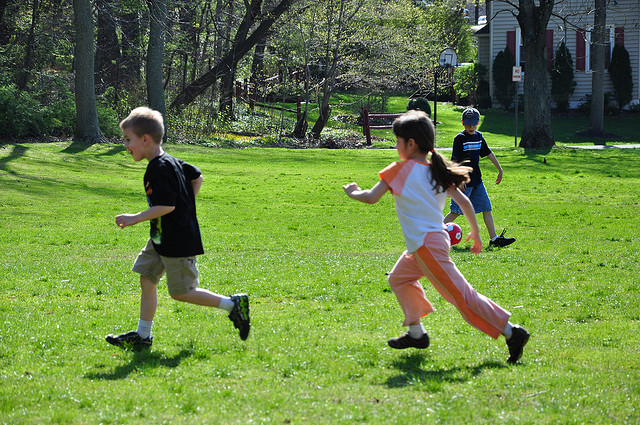 An elementary school in British Columbia, Canada has outlawed tag. In a letter to kindergarten parents sent home late last week, Coghlan Fundamental Elementary School administrators wrote that students were no longer allowed to engage in "hands-on play" during recess. Specifically banned activities include "tag, holding hands, and any and all imaginary fighting games." (You can read the entire letter, written in the beloved Comic Sans font, at CBC News.)
Parents are outraged. Let kids be kids!, they say. You can't police playtime.
"Do we expect our kids to be robots?" parent Julie Chen asked the National Post. "They're five-year-olds—you can't stop them from running around and having physical contact."
"Kids get hurt all the time. What are we going to do next, put them in a bubble to go to school?"
Chen's questions echo a strain of parental anxiety that seems to be everywhere these days. Kids are over-scheduled. Parents are too involved in their children's lives. Schools don't embrace failure enough. It's become increasingly common to lament the over-regulation of childhood—and the insistence on perfection that seems to drive it.
Chen's questions, though, are based on the same assumption that fuels the over-scheduling, helicopter-parenting culture: the idea that adult choices have the power to make or break a kid's life. And that if a parent or a teacher makes one wrong decision, or set of decisions, the kid is doomed. Obviously there are cases where this is true. Parental abuse or neglect can ruin a child's chances at a happy, fulfilling adulthood. But not being allowed to play tag at school in kindergarten is not going to turn a kid into a robot. She can play tag with her friends after school—assuming her parents haven't filled up all her free time with cello lessons and Mandarin classes.