Minorities Are More Likely to Believe Education Will Help Their Careers
White people, on the other hand, tend to be skeptical about the value of more school or training.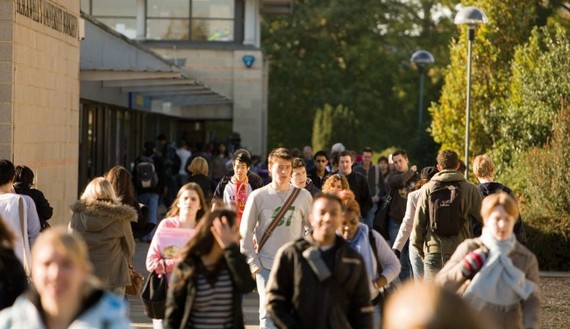 Blacks and Hispanics are more likely than whites to believe that their careers could benefit from more education or skills training. The new College Board/National Journal Next America Poll shows that Americans' attitudes on education split along racial lines, with minorities much more optimistic about the effects of further academic study or skills training on their own careers.
A small majority of whites, 52 percent, said they believed their careers would benefit from "additional skill training or a further academic credential," compared with nearly three-quarters (73 percent), of nonwhites. Among minorities, Hispanics were the most optimistic: 79 percent said more training or education would boost their careers. Seventy percent of blacks, and 63 percent of Asians said the same.
The results highlight a diverging worldview among those living in the U.S. based on race, with minorities more optimistic regarding the economy, their personal financial situations, and even the value of college.
The results are also notable as another budget debate looms and lawmakers from both parties, representing increasingly polarized constituencies, prepare to prioritize spending. Minorities are more likely than whites to believe that spending more on education would do more than tax cuts to improve the economic circumstances of their communities, the poll showed.
But even among those without a four-year degree, the racial divide persists. Whites without a college degree were significantly less likely to believe they'd get a boost from more education or training than nonwhites with the same level of education. Only 51 percent of whites without a college degree believed their careers would benefit, compared with 75 percent of nonwhites, the poll shows.
Results also showed that workers with college degrees were more likely to say they frequently used the skills and knowledge gained from their education on the job than those without a college degree. Nearly two-thirds (73 percent) of college-educated workers said they deployed their education at work. Slightly less than half (49 percent) of those without degrees said the same.
On this question, respondents divided along educational lines rather than by race. Whites and nonwhites with four-year degrees were nearly as likely to say they used their educations frequently on the job: 73 percent and 75 percent respectively, compared with 50 percent of whites and 47 percent of nonwhites without a degree who said the same.