Lots of College Freshmen Are About to Dump Their High-School Sweethearts
Thanksgiving break is here, which means it's time for the "Turkey Drop."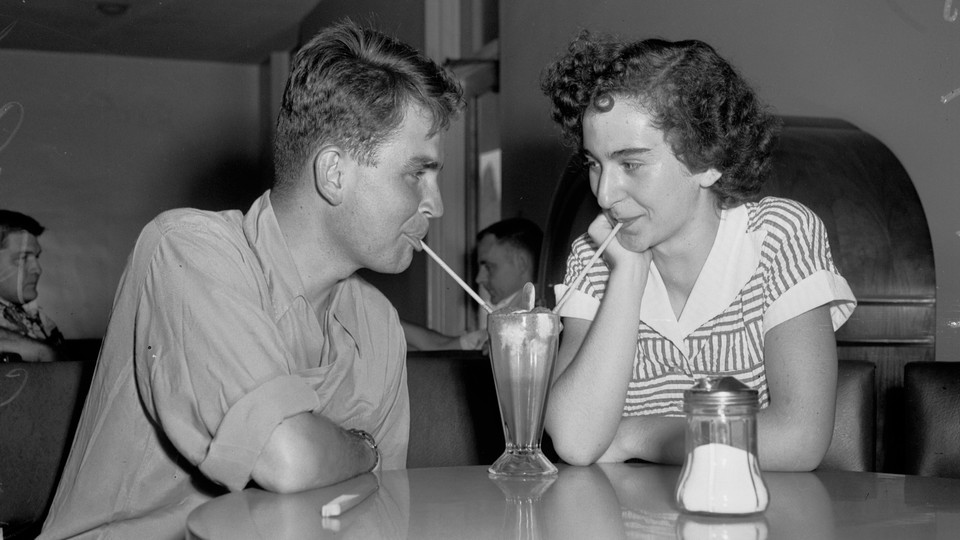 Many college freshmen are home this week for the first time since August. They'll retreat to what is comfortable – spending time with family, old friends, and for some, a high-school sweetheart. Thanksgiving will also be a time for big questions, particularly for those freshmen still in high-school relationships. Did they take advantage of their first three months in college, or did they lose out by spending too much time on Skype? During their first trip home, freshmen have to decide whether they stick it out with their first love, or succumb to what is known as the "Turkey Drop"— the phenomenon of high-school couples breaking up when they come home for their first Thanksgiving.
Much of my own freshman year in college was determined by one recurring scene. A friend knocks on my door. She tells me her plans for the night – maybe a sorority party or a pregame in a friend's room – and asks me if I want to come along. I look at her, all dolled up in heels and a cute crop top, and then I look back at my bed, soft and warm, offering a Saturday night of TV, calls with high-school friends, and microwavable macaroni and cheese. Do I push myself to meet new people (and risk spending the next four hours smiling and saying "hey, where are you from?" so many times that my face starts to hurt), or do I fall back on the familiar?
One Princeton junior told me that, during her first three months in college, she stayed in her room every Friday and Saturday night. She didn't go out because her high-school boyfriend didn't want her to. The first time she drank alcohol, he "fell apart." When she signed up to join a sorority, he started a screaming match. She knew she was missing out on important college experiences, but there was still something that made her stay with him for the first few months.
"First semester of freshman year, you don't have that many real friends, so when my high-school boyfriend would show up, I would be like, 'Yes, here is someone I trust, that I can actually tell things to,'" another junior said. "He was someone who would just instantly understand what was happening with me emotionally. I would want to just hole up in my room for the rest of the weekend, talking to him."
So when does this affinity for the familiar start to change? In the first few months of college, there are those long, lonely freshman nights – times when you wonder whether you've actually made any real friends. By November, however, most freshmen have gotten over the worst of their homesickness. The "Turkey Drop" happens in part because freshmen realize they no longer need the safety blanket of their high school significant other.
According to Dr. Christopher Thurber, a psychologist at Phillips Exeter Academy, going home for Thanksgiving – being surrounded by people they love – can actually help freshmen to get over their homesickness. "When you're homesick, your actions – being tearful, staying in your room a lot – will cue in the people around you, and prompt an appropriate social response," said Thurber. "People will reach out to you, and that often will boost the student's confidence. This in turn will help them overcome feelings of homesickness."
When I came home for Thanksgiving my freshman year, I was also shocked by how much I'd changed. I went to a high school where the majority of students had been living in the same town since kindergarten. Most people had similar views on political issues and didn't have experience with cultures different from our own. Then I moved into my freshman dorm, and met a roommate who had just flown in from South Korea. At Thanksgiving, it felt strange to reunite with my group of high school girlfriends, who all grew up within a 20-mile radius.
"A freshman will think, 'When I was with this girl in high school, I thought we were going to be together forever. Then I got to college and saw that there was so much going on – different people and places and things.' The committed match that you had in your mind might not look the same when you go home for Thanksgiving," said Thurber.
Almost everyone I interviewed said there was no way to casually be in a long-distance relationship in college. If you were weren't together everyday on campus, then you had to make sacrifices, and you didn't make sacrifices if things weren't serious. One junior told me that, freshman year, her high-school boyfriend revealed his plans to propose the day after graduation. She broke up with him a few weeks later.
"The nice thing about the college atmosphere in terms of relationships is that you can ease in to them – you don't have to know where you stand, you don't have to be really certain," said a current college junior. "But with long distance, there's the implication that you're in it for the long haul. Having a long-distance relationship in college doesn't just mean long distance. It means long distance, long term."
By late November, you realize that the long-distance, marriage-proposal kind of commitment is fundamentally opposed to the ideals we're taught to associate with college. A lot of women told me they felt guilty about having a high-school boyfriend because it just wasn't what you were "supposed" to do as a freshman. When I asked them exactly what they were supposed to be doing instead, no one had a concrete answer. A few vaguely mentioned drinking more heavily, or being free to consent to a dance floor make-out, but there was clearly something else.
From movies like Animal House, Van Wilder, and 21 and Over, we get this idea that college is the only time in our lives when we can do stupid, drunken things and not get in too much trouble.  The bridge of Asher Roth's legendary rap anthem, "I Love College," offers freshmen just one piece of advice: "Do something crazy!" In college, you're supposed to make mistakes because those mistakes become cool stories – the kind that build character and street cred. But it's hard to feel free to make bad decisions when you've got someone from home sending you a constant stream of text messages on Saturday night.
There's more to this cultural idea of college than wild parties. Leaving home, we're told that the next four years will be a time to experiment and figure out what we want to contribute to the world. Most juniors and seniors I know chose to major in a department different from the one they listed on their college application. That's because we've all taken risks, learning about topics we didn't expect to love. The whole process is trial and error: Try a lot of different things, and see what works. The biggest pressure for freshmen to "turkey drop" comes from knowing that we may never again be this free to explore.