How I Talk to My High-School Students About the Internet
As a teacher, I believe it's my job to warn kids about the dangers of being online—and to show them the benefits.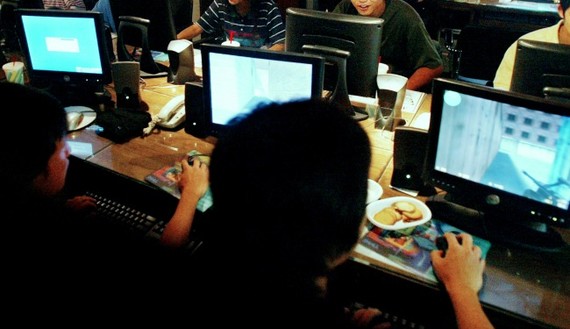 Last year, I discussed former New York Congressman Anthony Weiner's sexting scandal with seniors in my United States Government course.
We not only considered the ramifications of Weiner's actions– and how his inappropriate use of Twitter had truncated his political career–but I also asked my students to examine their own use of social media.
They agreed to pause and think before posting anything online, and to consider the permanence of the Internet. After a brainstorming session, the class also created several questions to guide them in making wise online decisions:
Do I treat others online with the same respect I would accord them in person?
Would my parents be disappointed in me if they examined my online behavior?
Does my online behavior accurately reflect who I am away from the computer?
Could my online behavior hinder my future college and employment prospects?
How could my online behavior affect current and future personal relationships?
I then had my students use their smartphones to review recent postings on Instagram. I heard shrieks as some reexamined not only what others had posted, but also what images they had shared. For the most part, these students worried about scantily clad appearances. Others showed confidence in their use of Instagram to share images of smiling friends and family. My goal isn't to scare students away from using social media, which can be an extremely useful tool. I just want them to use it wisely. As a teacher, I believe it's my job to teach my students about digital literacy and citizenship, equipping them with the tools to navigate an increasingly open digital world. This means making students aware of potential pitfalls and helping them to make good choices with current and emerging communication platforms.
What more can schools do to accomplish this goal? For starters, I propose rethinking content-filtering software that blocks access to Facebook, Twitter, and LinkedIn on school computers. For designated periods, teachers and students should have access to these sites, which real-world professionals depend on for communicating and conducting business.  Once students graduate, they will increasingly rely on social networking to market themselves and their abilities, and it's unfortunate that not more teachers offer formal training on how to do this effectively.
I also feel strongly that more teachers should become familiar with social networking tools, especially if they wish to earn respect and credibility with this tech-savvy, digital-native generation. Students learn best with effective modeling, and what better way than leading by example? In my journalism class, for instance, I show students how I use Twitter to make connections with like-minded educators. I also show them what messages I write, how I write them, and the responses I elicit. I show them how Facebook and LinkedIn can be used to promote ideas, while attracting more followers.
Schools should also encourage teachers to incorporate digital citizenship into the curriculum. Teachers can be creative about how and when they implement lessons, which should delve beyond how one uses social networking. For example, before I assign my junior American History students their first essay, I review fair use, public domain, and copyright laws. In an age when information is easily accessible and often free, it's not surprising that some teenagers don't always understand what constitutes plagiarism and other forms of academic dishonesty.
I'm always looking for resources to help teach these lessons, and I recently stumbled upon a non-profit called Common Sense Media, which offers a free "K-12 Digital Literacy & Citizenship Curriculum."
Users have access to dozens of lessons that cover a myriad of categories, from cyber cruelty and digital privacy to how students should responsibly manage online identities. In seven years of teaching, I have never come across a more insightful, organized, and helpful instructional aid.
I'm particularly intrigued by the lesson "Copyrights and Wrongs," which provides learning objectives, videos, and teaching materials to raise students' awareness about ways they can use copyrighted material. The lesson also includes realistic scenarios, helping students more easily relate to and discuss real-world situations:
Lola takes a photo of the mountains near her home. She uploads the photo to the Internet with "Copyright 2011 Lola Dominguez" next to the image. About a week later, she checks one of her favorite blogs and sees that the blogger has posted her photo on the blog and has posted a creative writing story to go along with it.
This is a serious violation, but through discussion students understand the terms under which Lola's photograph, as well as the creative materials of others, can be used. Students also learn best when they more easily relate to the material being taught, and, to that end, I appreciate how Common Sense Media has crafted its scope and sequence to optimize student interest.
I recently spoke to Louisa Sullivan, who serves as the organization's New York-based education program manager. Sullivan works with schools and communities in the region, raising awareness of digital literacy and citizenship. We discussed other ways to teach these topics within an existing curriculum.
"If you're talking about digital footprints, thinking about a student's own digital footprint, you can really tie that in to social studies or language arts and English," Sullivan says.
Sullivan cites an example of a social studies class reading about a well-known historical figure, and then searching online for that person's digital footprint. Students then search for themselves to determine what online presence they have, which serves to teach about the permanence of the Internet—as well as the importance of maintaining a respectable virtual identity.
"I always tell teachers, when you're talking about digital footprint, make sure you Google yourself," Sullivan says. "What are you putting out there? Are you promoting the good work that you do? When you start to have these conversations, teachers do need to be aware and think about their own online life."
Fortunately, I'm seeing that more and more teenagers are taking these lessons to heart. In the spring, one of my senior students, Preston Michelson, used Twitter to connect with students and alumni associated with Northwestern University, where he's now studying journalism.
"I am supremely confident that my use of Twitter and social networking allowed me to be a step ahead of other freshmen," Michelson says. "I was able to find and communicate with students and alumni about how to best take advantage of student-media at Northwestern, and I also made contact with a radio broadcaster for the Miami Marlins."
Michelson's story reminds me that conversations about social networking with teens are essential—not just to warn them about the dangers of the Internet, but to show them how to experience its benefits.