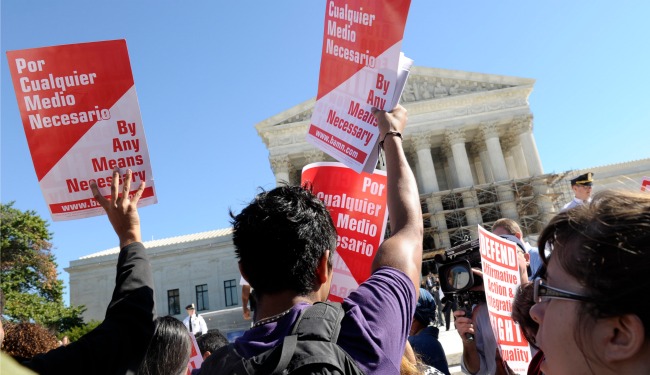 Michigan's 2006 ban on affirmative action means de-facto segregation, a coalition fighting the ban argues in a brief filed to the Supreme Court. The challenge to the law, which the Court is now considering, starts with the assumption that the number of minority students admitted to Michigan's top colleges would shrink under the ban.
A new approach at the University of Colorado (Boulder) suggests that some colleges could maintain racial diversity while de-emphasizing race in the admissions process. Since 2011, the state flagship has given extra consideration to disadvantaged applicants and to those whose grades and test scores are above average for their economic circumstances.
Even if the state were to ban race-based affirmative action, the class-based framework should increase low-income admissions, maintain minority representation, and even better, predict success in college. It's a model that could help other universities become more diverse.
"What we hope is that this result will ease fears—at least a little bit—that an end to race-based affirmative action will be absolutely devastating for racial diversity on college campuses," says Matthew Gaertner, a research scientist in the center for college and career success at Pearson. Gaertner helped the admissions office devise its new framework while a graduate student at Boulder.
CU-Boulder is a moderately selective institution that primarily serves Colorado and the West. Only about 
20 percent
 of the university's over 29,000 students are African-American, Asian-American, Hispanic, or Native American. The university has been working to increase underrepresented-minority enrollment for the past six years.
Like other selective colleges, CU-Boulder has a set of criteria it uses to weigh marginal applicants—those whose grades and test scores aren't high enough to guarantee admission, but who would still add value to the freshman class. Factors include extracurricular activities, strength of the senior schedule, and race.
The university had to rethink its approach in 2008, when a state ballot initiative threatened to ban affirmative action. "I was very concerned about what could potentially happen to our campus," says Kevin MacLennan, CU-Boulder's director of admissions. He visited flagship institutions in some of the eight states that have banned affirmative action, and he found that they had experienced a significant drop in ethnic and racial diversity.