The Shutdown Is Teaching Students How Not to Run a Country
"What we're seeing now is so at odds with what we teach in civics classes that it's going to cause cognitive dissonance."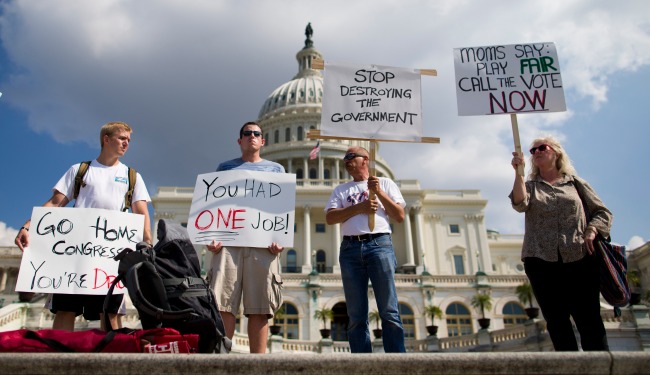 With the partial shutdown of the federal government well into its second week, it's reasonable to ask what lessons students might be absorbing from the actions of Congress—or lack thereof. Peter Levine, director of the Center for Information & Research on Civic Learning & Engagement (CIRCLE) at Tufts University, told me the political stalemate might translate into a short-term "teachable moment" for a class on government. But in the long run, it's a less-than-ideal curriculum.
"What we're seeing now is so at odds with what we teach in civics classes that it's going to cause cognitive dissonance," Levine said. He added that students already know there's a disconnect between what they're being taught about how U.S. government is supposed to function and the realities of current events. And the shutdown only contributes to that gap, he added. (For more on how the shutdown is impacting public education, Education Week's Alyson Klein is tackling the tough questions for the Politics K-12 blog.)
Levine's organization recently convened a commission to examine civic learning and engagement among young people, leading to a new report released today at the National Press Club in Washington, D.C. The Commission on Youth Voting and Civic Knowledge conducted an extensive mix of surveys and interviews (including repeats over time to measure changes) with more than 700 teachers and more than 6,000 young people. Among the key takeaways:
On the National Assessment of Educational Progress, known as "The Nation's Report Card," white students from affluent families were "four to six times as likely to exceed the 'proficient' level" on the civics test, when compared with their black or Hispanic classmates from low-income households. (Irony alert: If you're looking for more on NAEP, you won't find it on the official government site. It's been shut down by the shutdown.)
Even in presidential elections, fewer than half of eligible young Americans vote. Those who do show up at the polls are more affluent and highly educated than those who don't vote.
Nine out of 10 Americans ages 18-24 failed to meet the organization's benchmark of "informed engagement" last year, defined as the following: "registered, voted, answered at least one (out
 of two) campaign knowledge questions correctly, answered four or more general political knowledge questions correctly, voted consistently with their personal opinion on
a campaign issue of their choice, and followed the news fairly or very closely during the election season." 
While neither voter turnout nor political knowledge among young people has declined much since the 1970s, the political debate has become "more confusing, alienating, and polarizing," the report's authors contend.
"The degree of pushback and controversy surrounding the very idea of civic engagement is new," Levine told me. "If I had to highlight just one statistic, it's that a quarter of [the government and civics] teachers said their students' parents would object to discussion of politics in the classroom."
As Levine pointed out, there's little incentive for teachers to risk the heat of using a potentially controversial current event to engage students. "It's not in the [state] standards, and it's not on the high-stakes tests," Levine said. Creative and determined teachers can usually find opportunities to incorporate these kinds of classroom activities, Levine said, but there needs to be more explicit support for them to do so.
While not including a specific set of recommendations for civics, the new Common Core State Standards (adopted by 46 states and the District of Columbia) offer some promising opportunities thanks to the emphasis on encouraging students to read nonfiction texts, Levine said. The commission makes a number of recommendations, including encouraging states to adopt policies that support teachers' efforts to include more current events (including the controversial ones) in their lesson plans. They also advise lowering the voting age to 17 for municipal and state elections, so students will be encouraged to start voting when they're more likely to be taking a required civics class.
So why does civic engagement matter? It's actually one of the reasons why America has a public education system. The country's founders believed an educated populace was a cornerstone to America's long-term survival. Schools were charged with the responsibility of ensuring citizens were prepared for the obligations that came with supporting the fledgling democracy.
Robert Pondiscio, executive director of CitizenshipFirst, a nonprofit initiative that focuses on the value of civics education, pointed to the significant opportunity gaps for minorities and less-affluent young adults highlighted in the commission's report.
"If we really cared about disenfranchisement, we'd focus on eliminating it at the source—our schools," Pondiscio told me. "The further you go in school, the more likely you are to vote."
At Democracy Prep, a charter school network operating in Harlem, N.Y. and New Jersey, which supports CitizenshipFirst's education initiative, students are taught that "politicians notice who votes and who doesn't," Pondiscio said. "More attention will be paid to the issues that matter to people who vote. That may be obvious to some, but it's hugely important to teach civics as a dynamic process—especially to students from groups with low rates of civic engagement."
As for whether the shutdown will contribute to young people's disengagement, Pondiscio said it's "easy to become cynical about Washington politics." But the players there represent only a small fraction of the nation's elected officials. Most of them work at the municipal and state level, and "their decisions likely have an even bigger impact on our daily lives," he said.
"Understanding how to pull the levers of government, how to organize and make one's voice heard to effect change is an essential part of a good education," Pondiscio said. "If students leave high school without seeing themselves as active participants in democratic processes, something has gone very wrong."