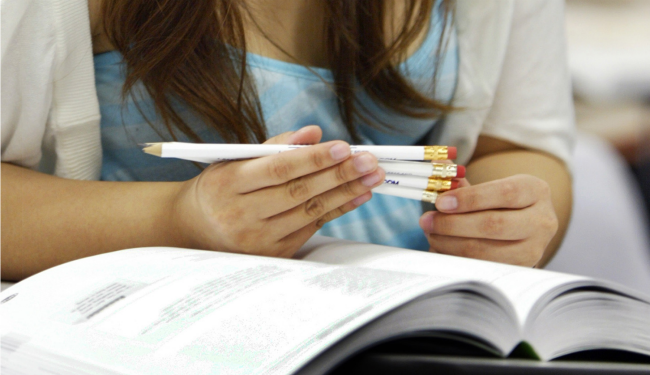 The SAT is changing.  Again.  For the second time in just over a decade, the College Board, which administers the exam, is planning to redesign the exam.  The details of the redesign aren't public yet, but it looks like the result will be similar to the last time:  Several cosmetic changes will raise the anxiety of students and their parents but will likely fail to address the deepest problem with the test or even make it worse.  This is good news for people like me, who make a living as an SAT tutor, but bad news for everybody else.
When the redesigned SAT premiered after several years of planning in 2005, there were two major changes, one to content and another to structure.   The old Math and Verbal (renamed Critical Reading) sections were joined by a Writing section, which includes an essay assignment that asks test takers to "develop a point of view on an issue," such as, "Should we question the decisions made by figures of authority?" or "Can success be a disaster?"  And, as a result of adding Writing to the test, the total length of the test increased by 25 percent, the number of sections went from seven to ten, sections were shortened, and the number of questions in the Math and Reading Sections went down, making each question more valuable as a percentage of the available points while increasing the fatigue factor on the exam, as College Board's own researchers acknowledged.
The essay has provoked many criticisms (here, here, and here), but the loudest critic of the essay these days is David Coleman, the president of the College Board, which administers the SAT. Coleman was the lead architect of the Common Core State Standards, which now shape the English Language Arts and Math curriculums in public primary and secondary schools in 45 states.  He's been praised by Arne Duncan, Bill Clinton, Time magazine, and others as a champion of academic reform. He has now turned his attention to fixing the essay section of the SAT.
Speaking to the National Association for College Admission Counseling a few weeks ago, Coleman bemoaned the fact that SAT graders paid no attention to the accuracy of an essay's claims in scoring it.  He seemed particularly dismayed that a friend of his who tutors in Hong Kong goes so far as to advise her students to fabricate essay examples. When he recounted this same anecdote last year at the Brookings Institution, he elaborated, "Now I'm all for creativity and innovation, but I don't think that's quite the creativity we want to inspire in a generation of youth."
Coleman has suggested that the essay assignment should no longer ask test-takers to come up with examples of their own.  Instead, they should analyze some documents and incorporate them into their response to the prompt.
Coleman is to be commended for recognizing, as none of his predecessors did, that the SAT pushes students to practice. And so, as he told the New York Times in August, the test should focus on "things that matter more so that the endless hours students put into practicing for the SAT will be work that's worth doing." But will practicing for the new essay be worth doing? 
The way one answers this question depends in large part on what one thinks good writing is.  Coleman has given us his criteria. At Brookings last fall, he argued, "If writing is to be ready for the demands of career and college, it must be precise, it must be accurate, it must draw upon evidence."
These are only some of the things most college-ready writing must be, however.  College essays also need to be typed and spellchecked, but the SAT essay is handwritten and spelling errors do not matter.  Specious as that comparison might sound, it is a fact that in the age of Google, accuracy and evidence are, like layout and spelling, problems solved as much by technology as by personal know-how. It is marvelously simple to confirm a statement, but it is devilishly hard to write a well-balanced sentence.  As of yet, there is no app for rhetoric or style.
The literary scholar Stanley Fish has repeatedly argued that style and rhetoric should in fact be the only concern of composition instructors.  I am inclined to agree with him that what makes a work of writing great is its form (the way it is written) rather than its content (what it is written about).  Alice Munro and David Foster Wallace are tremendous writers not because they write about anything particularly special but because they write about everything in a special way.
It would be wrong, however, to dismiss Coleman's claim that students need to learn to work with sources. With information so readily available online, it is more important than ever that students learn to evaluate and interpret sources. The College Board already encourages these skills in its AP History courses, in which students learn to answer a document-based question. The AP exam's document-based question reproduces about ten primary sources (e.g., newspaper articles, speeches, and cartoons) to incorporate into an argument about some historical phenomenon. Essays are assessed on the quality of their argument and the accuracy of their claims.
Coleman admires the AP system, and so it is probably the document-based question, or a scaled down version of it, that he has in mind for the SAT. There is nothing inherently wrong with making the SAT essay a document-based question; it might actually make it easier for test-takers, who typically worry most about finding examples for the essay.  What would be wrong is if the time allotted for the essay did not change.
Students have one hour to write the AP History essay, and the first 15 minutes of that hour are reserved exclusively for those activities writers should perform before they write any argument: analysis, evidence gathering, and outlining.
In contrast, the entire SAT essay lasts 25 minutes.  In that time, a test taker must outline the essay, write it, and revise it.  Or, more commonly, skip the first and last step and suffer the consequences. 
In all his criticism of the SAT essay, Coleman has expressed no concern with the time granted to examinees to write it, even though a document-based format would demand more time. Despite his desire that the SAT encourage writing " ready for the demands of career and college," any essay that is severely constrained by time provides a counterproductive model for writing. Most anyone who has taught composition quickly realizes that many of the problems of bad writing could be easily corrected if the writer simply created an outline before getting started and carried out multiple revisions, rather than staying up all night to get an assignment done for the next day.  The SAT essay reinforces many students' mistaken belief that writing is an act of inspiration giving rise to a sudden burst of activity that can be carried out only under extreme pressure. Sound familiar? Given its ridiculous time constraints, the SAT essay is a model for the all-nighter.
If the essay is to be revamped to look more like the AP History exam, then the time granted to write the essay will have to be longer.  At three hours and 45 minutes of testing time, however, the SAT is already longer than the admissions exams for law school, business school, and PhD programs. It is hard to imagine that the College Board will push to make the exam longer yet.  The other options are to cut or shorten other sections of the SAT.
The solution? The College Board should make the test longer but break it up over several school days.
I used to tell students that they should think of the SAT as a marathon, but that is not quite right.  The SAT is really a series of sprints, ten in a row. Imagine if the Olympics only held 100-meter races. Usain Bolt would be happy, but what about double gold-medalist Mo Farrah and a host of other long distance runners?  That is basically what colleges that require the SAT do. No matter what changes the College Board makes to the content of the SAT, the test will remain deeply flawed (and eminently coachable!) as long as it continues to reward only the sprinters.
We want to hear what you think about this article. Submit a letter to the editor or write to letters@theatlantic.com.