Teachers Are Supposed to Assign Harder Books, but They Aren't Doing It Yet
Because of Winn-Dixie, Anne Frank: The Diary of a Young Girl, and To Kill a Mockingbird are among the most popular texts assigned to public-school students, a new report shows. According to the new Common Core standards, they may not be challenging enough.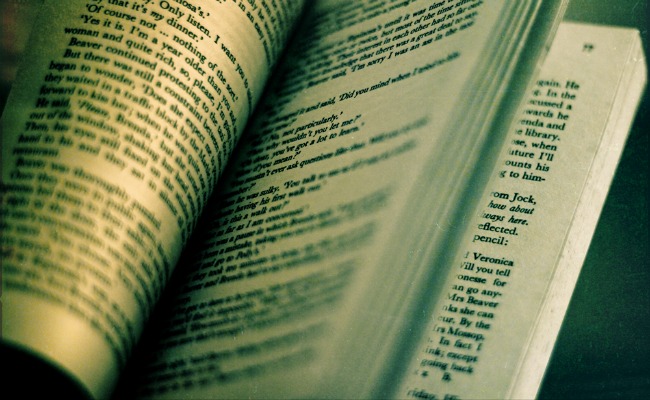 One of the signature aspects of the new Common Core State Standards is their tougher demands on reading: They require students to read texts that are on grade level, even if the all students in a class aren't able to read the works without assistance.
Are America's classrooms ready for this change? The Thomas B. Fordham Institute, an education-policy think tank that supports the Common Core, has just released a report that attempts to answer that question. Fordham researchers surveyed 1,154 public-school teachers of English, language arts, or reading: 300 elementary teachers (fourth and fifth grade), 370 middle-school teachers (sixth, seventh, and eighth grade), and 484 high-school teachers (ninth and tenth grade). All the teachers are in the 46 states that have adopted the Common Core.
Teachers were asked a series of questions about how they approach assigning texts to their students. They were also given a list of texts, both Common Core-recommended and not, and asked to indicate which, if any, they currently require their students to read. The results of both indicated that teachers are not yet assigning books that are on grade level.
"Across all grade levels...there was a tendency to err on the side of lower-level books," said Kathleen Porter-Magee, Bernard Lee Schwartz Policy Fellow at Fordham.
Sixty-four percent of elementary school teachers said they choose most texts based on students' reading levels, rather than grade level or other metrics. That number goes down for middle- and high-school teachers, but it's still relatively high:

You can also see evidence of the tendency away from rigor on the lists of most-assigned texts. Here are the ten most popular stories for each age group, along with their "lexiles." (Lexiles are a measure of a text's difficulty, ranging from below 200 to more than 1600. The higher the lexile level, the more challenging the text. Lexile levels are based on a text's vocabulary and sentence length, not its themes or concepts.)
Elementary School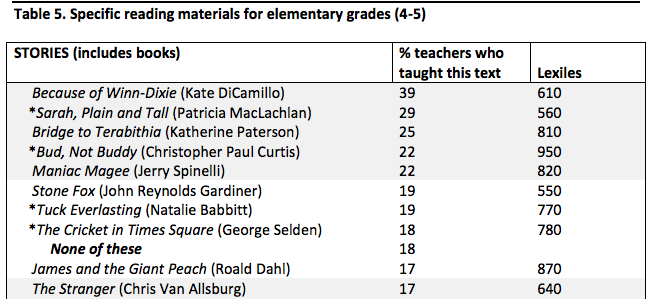 According to the Common Core standards, fourth- and fifth-graders should be reading texts with a lexile range of 740 to 1100; four of the 10 most popular books for his age range aren't challenging enough.
Middle School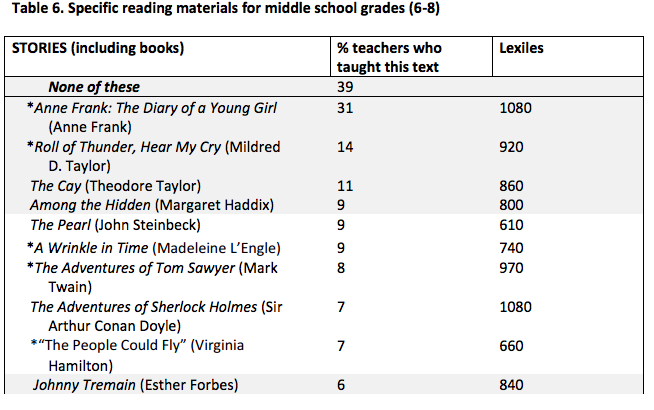 Middle-schoolers should be reading texts in the 950 to 1185 range; seven of the 10 most popular books for this age group aren't challenging enough.
High School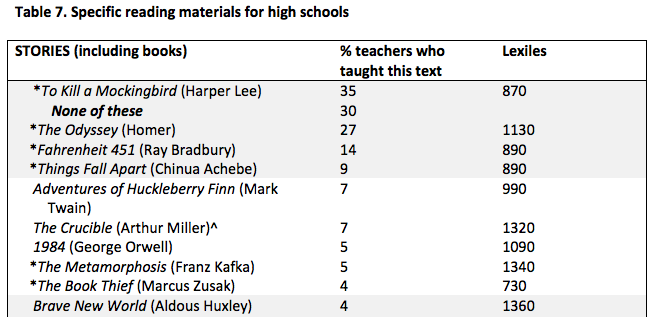 According to the Common Core standards, ninth- and tenth-graders should be reading texts with a lexile range of 1050 to 1335: Five of the 10 most popular books don't meet that level of difficulty.
Clearly, there's a gap right now between what the Common Core standards say teachers should be doing—assigning tough texts, regardless of student ability—and what actually goes on in the classroom. Fordham will conduct a new, similar survey in 2015 to see how that gap between ideal and reality has changed.
"I'll be interested in seeing how that changes," said Porter-Magee.
One hurdle could be teacher buy-in. Ninety percent of the teachers surveyed said they were either "very" or "somewhat" familiar with the demands of the Common Core. Nearly half said they believe the new standards will improve student learning either "somewhat" or "a great deal." And yet the majority said they'd made little or no change to their teaching as a result of the new standards.