'Nature Is a Powerful Teacher': The Educational Value of Going Outside
At more than 80 Boston public schools, teachers are moving the classroom outdoors.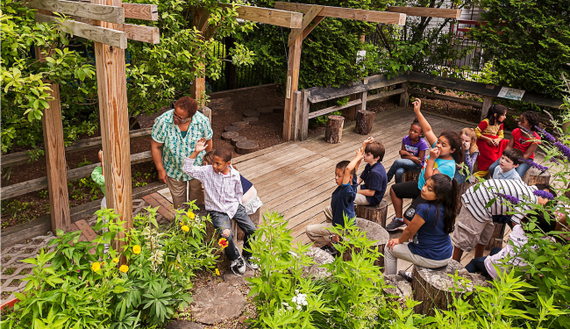 Four years ago, the nurse at Boston's Young Achievers School was overwhelmed. Previously a middle school, Young Achievers had recently become a K-8 school and there was no appropriate space for recess. Instead, according to a teacher at the school, students spent recess in "a disorganized, cracked, muddy parking lot," where they ran between and bounced balls off of cars.
That changed when a group called the Boston Schoolyard Initiative began a community planning process to build a new playground and outdoor classroom at the school. Today, students spend recess digging in a sand box, crafting tunnels through a bramble, and playing in a stream—and asphalt injuries no longer fill the nurse's office.
Young Achievers is just one of the 88 schools the schoolyard initiative has renovated since it began bringing green space to urban schools in 1995. Through its partnership with the City of Boston, Boston Public Schools, and the Boston Schoolyard Funders Collaborative, BSI has developed, designed, and constructed outside space at every feasible elementary and K-8 Boston public school.
"Nature is a powerful teacher, and there are so many things that kids can learn hands-on in the schoolyard that they cannot learn sitting in a classroom," Boston Schoolyard Initiative's Executive Director Myrna Johnson said.
I talked to teachers at a handful of schools to find out how the outdoor facilities have affected everything from science curriculums to behavior management.
---
ELLIS MENDELL ELEMENTARY SCHOOL
When the Boston Schoolyard Initiative begins the process of creating an outdoor space, they start by talking to the community about the wants and needs of their teachers and students.
For the Mendell School, Klopfer Martin Design Group incorporated several features, like a lab workspace and planting beds, into the school playground.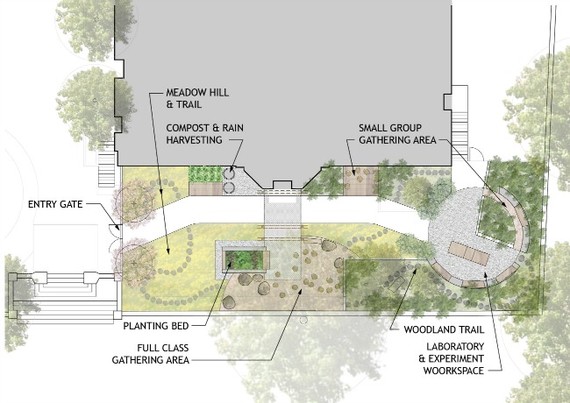 The school's science specialist Elizabeth Hadley uses the arbor with a pulley system to teach her fifth grade students about simple machines. The meadow and woodland area come into play when she covers ecosystems and food webs. Her second-grade students collect bugs under the logs and then apply lessons from their classroom to determine whether or not those bugs are insects.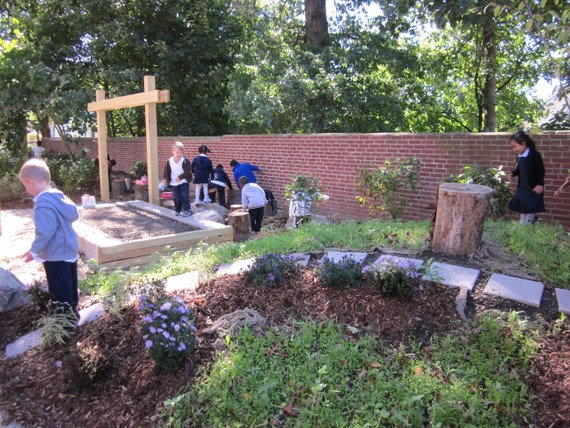 The outdoor space has also become integral to Hadley's work with a diverse student body. The outdoor space "levels the playing field," she said, for students from different backgrounds and for students with special needs. "The amount of background knowledge and experiences of going outside and exploring nature that kids bring to the table can be drastically different…Even if they've never had any experience before with touching animals or looking for animals in their habitats, they are all doing it at the same time. They can all talk about it together."
These outdoor experiences can be especially crucial for ESL students, who can use new science vocabulary in its context. "Because students internalize [new vocabulary] best when they are exposed to it in multiple ways, in different kinds of contexts, I find that the language they are using is a lot higher when they've had a chance to experience it in multiple settings," she said.
YOUNG ACHIEVERS SCIENCE AND MATH PILOT SCHOOL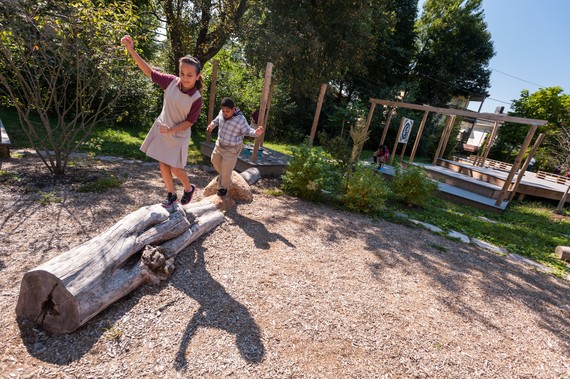 At the Young Achievers School, administrators had to create a space to accommodate an influx of younger students when the school went from being a 6-8 middle school to a K-8 school. Before the renovations, teachers held recess in a parking lot and struggled to encourage play while keeping the children safe. The new outdoor space was designed to encourage "nature play," a term for informal interactions with natural materials, like logs, gardens, and trees.
The uses for Young Achievers School's outdoor space "aren't quite so clearly specified," Johnson said. For example, the logs in the outdoor classroom are used as balance beams during recess and the decking is used as a stage or as a fort. Bo Hoppin, the school's experiential education coordinator, said, "We didn't want our outdoor classroom to be just a classroom, we also wanted it to a place where kids could come as a recess alternative to interact with nature in a non-formal way." Hoppin believes that nature play "stimulates cognitive development and definitely helps with behavioral issues and challenges that we have."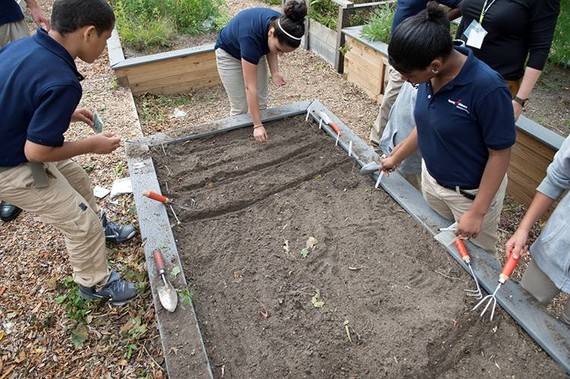 The outdoor space is also used for formal instruction. For example, in a myth, legends, and folktales unit, students read the Native American story of the Three Sisters Garden. Then they learn about the agricultural practices of Native Americans while planting a Three Sisters Garden in the outdoor classroom. The unit also ties in science instruction, when the students learn about the structures of seeds and plants.
During a unit on ancient civilizations, sixth-graders use the outdoor classroom as an archeological dig. Seventh-graders study land geology and use the rocks in the outdoor classroom to look at the chemical processes of what weathers rocks.
These kind of outdoor experiments provide "an opportunity to test the concept in a real-world setting and they get a deeper understanding of the concept than if they were doing one experiment in the classroom," Johnson said.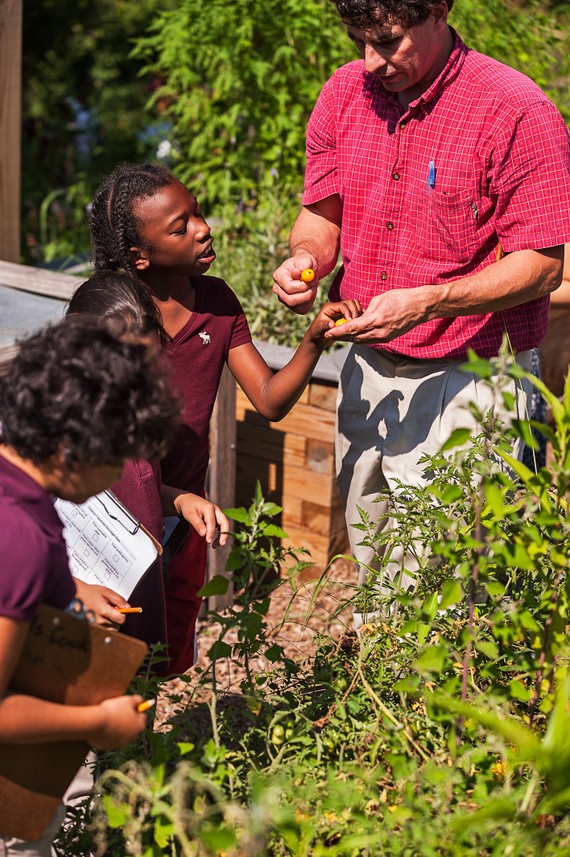 Using the outdoor space has had other benefits for the students. Hoppin said teachers have noticed students are more curious about learning after using the outdoor classroom. The space has also helped students with social and emotional behavioral problems. For these students, it serves a "reset space" where they can decompress during the day, Hoppin said.
SAMUEL W. MASON ELEMENTARY SCHOOL

The Mason School outdoor classroom is used for everything from insect gathering to watercolor painting. One teacher at the school has partnered with The Food Project to plant vegetables in the gardens and teach students about where food comes from. Jose Rosa, another teacher at Mason School, uses the outdoor classroom to show teach his students about organisms in nature.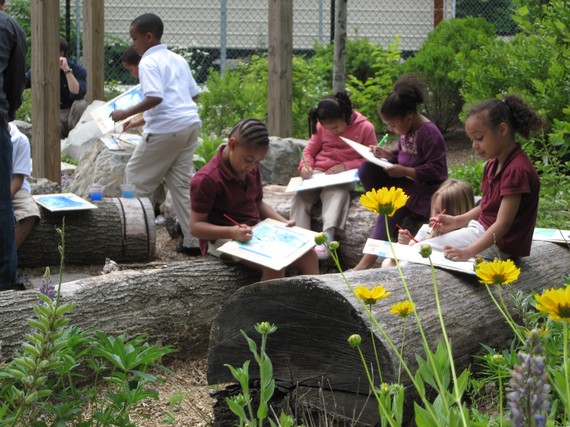 In the fifth grade, Rosa's students studied pill bugs in soda bottles during a unit on ecosystems. "But when they go outside...they see these pill bugs underneath logs, underneath shrubs, and they see that they actually exist outside of the classroom. So I think it's bringing reality into the students' world," he said.
THOMAS A. EDISON MIDDLE SCHOOL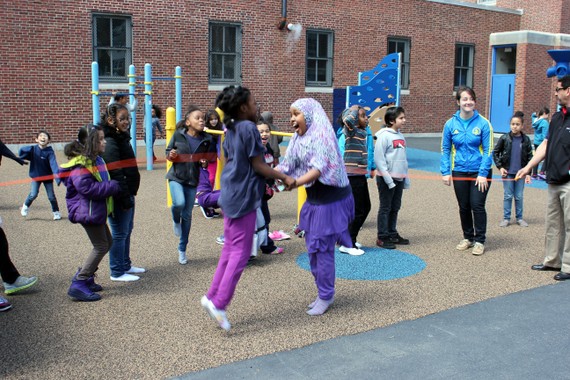 As an arts-focused school, the Edison School looked to create an outdoor space that could extend arts work outside of the classroom. The result includes outdoor reading spaces and an amphitheater.
"It is not uncommon to see an eighth-grade class that goes out there to… read a novel together," Edison School Principal Mary Driscoll said. "Or to do writing they'll go out and the assignment might be to observe something closely… and write about something they are observing."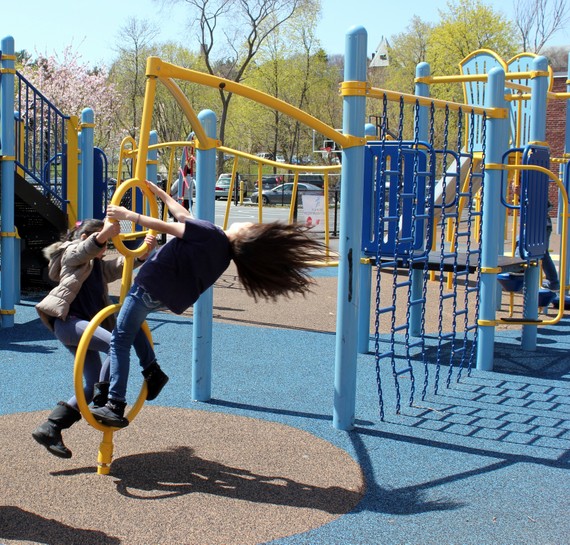 When nearby elementary and middle schools merged, Driscoll took the unusual step of mandating outdoor recess for her middle school students. "The research seemed pretty compelling that giving students even just ten minutes of outdoor time has a positive impact on learning," she said. In the school's first year, Driscoll started a trial run fifteen minute recess block for middle schoolers. "Nobody has ever looked back," she said, "People realized it was a great release for students."
---
The Boston Schoolyard Initiative has reclaimed 130 acres of asphalt and reached more than 30,000 children in Boston. Principals claim the schoolyards have improved student behavior, promoted exercise, and improved relations with parents and the community. Boston teachers are learning new teaching methods and developing new lesson plans. Other cities could consider learning the lesson of BSI's success: If you want to improve urban education, get students out of the classroom.