Bloomberg's Education Plan Is Working: Don't Ditch It
Since the outgoing mayor took office, New York City's high-school graduation rates are up. There are more high-quality schools. Money is distributed more equitably.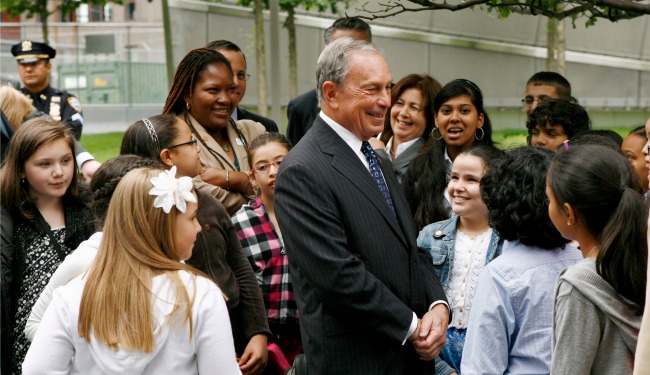 Bill de Blasio, the likely next New York City mayor, has made a lot of promises about public education. No additional charter schools; no free space for many charter schools educating city kids; less reliance on student test performance to judge schools; and a moratorium on the closure of low-performing schools.  Though these pledges have come piecemeal, together they would dismantle the reforms Michael Bloomberg implemented during his 12 years as mayor.  Before this happens, it's worth looking at what Bloomberg's policies have accomplished and what is at risk if they are tossed out.
This essay will show what has been accomplished—how children have benefited from Bloomberg's education policies and how the system has changed in positive ways. Then in later sections it discusses, first, how the positive results came about; and second, how the next can mayor make sure those gains are not lost.
In October 2002, about nine months after Bloomberg took office, he and schools chancellor Joel Klein unveiled "Children First: A New Agenda for Public Education." Children First sought to increase the four-year high school graduation rates—which hovered around 50 percent—and preparedness for college.  Because children from advantaged households already graduated at high rates, the only way to increase the number of graduates was to improve results for children who were at risk of never graduating.  The only way to do that was to improve schools—high schools so students would be encouraged to take necessary courses and persevere to graduation, and elementary and middle schools so that students would enter high school ready to succeed. Children First also worked to rescue high school-age students who had already dropped out or fallen drastically behind. It did this by creating career and technical education schools that linked students to jobs, and "multiple pathways to graduation" that offered flexible schedules and concentrated learning opportunities so students could graduate.
Here's a straight assessment of the results.
Graduation rates are up. When Bloomberg became mayor, less than half the students in New York City's high schools graduated in four years.  Today, nearly two-thirds graduate on time. Every year, more than 18,000 young people graduate high school than would have been expected in 2002. The percentage of graduates who enter college without needing to take remedial courses has doubled since 2001.
From 2005 to 2012, the graduation rate for Asian students rose from 66.3 percent to 82.1 percent, for black students from 40.1 percent to 59.8 percent; for Hispanic students from 37.4 percent to 57.5 percent; and for white students from 64.0 percent to 78.1 percent.
The percentage of city students dropping out after entering high school fell from 22 percent in 2005 to 11.4 percent in 2012. The percentage receiving an Advanced Regents Diploma increased from 12.5 percent in 2005 to 16.6 percent in 2012.
New small high schools started during the Bloomberg administration are more effective than the schools they replaced. On campuses where new small schools replaced large underperforming high schools, the overall graduation rate increased from 37.9 percent to 67.7 percent. This translates to 2,056 more graduates per year. New schools have produced these results serving the same kinds of students—those living in poverty, with disabilities, learning English as a second language—as the schools they replaced. In fact, students who entered the new small schools with the lowest test scores benefited from them the most.
The new schools are demonstrably more effective. A series of studies by independent research firm MDRC uses the "gold standard" method of measuring school effects. (For a full description of the firm's multi-year study of new small high schools in the city, see here.) They took advantage of the lotteries required to select at random among applicants to the new high schools. Because applicants are selected at random, students who win the lotteries and thus attend new high schools have the same characteristics, including motivation, as students who lose in the lotteries. Any differences in results—say, test scores or rates of graduation—can be confidently attributed to the one clear difference between the two groups: the school they attended. These studies are updated every year as results from a new cohort of students become available.
Summing up its findings in 2012, MDRC reported that, in 123 small schools located in disadvantaged neighborhoods:
By the end of their first year of high school, 58.5 percent of new small school enrollees are on track to graduate in four years compared with 48.5 percent of students who did not win the admissions lottery.
By the fourth year of high school, lottery winners' graduation rates are higher by 8.6 percentage points (69.7 percent for new school attendees vs. 59.3 percent for lottery students who did not attend the new small schools), which is roughly one-third the size of the gap in graduation rates between white students and students of color in New York City.
Lottery winners are 7.6 percentage points more likely to get a high score of at least 75 points on the English Regents, where a score of 65 is "passing." However, lottery winners are no more likely than control group students to get a 75 on the Mathematics Regents.
Positive effects are seen for a broad range of students, particularly the highest need students, including students with low entering proficiency in math and English, males and females, blacks and Hispanics, and students eligible for free and reduced-priced lunch.
The most recent update of these findings added that the cohort entering new small schools in 2006 had even better results: a 4-year graduation rate of 74.6 compared to 65.1 for control group members.
The research team asked teachers what made new small schools effective. The answer: schools can assemble a group of teachers who are united around a school mission and approach, and will work closely with one another and with individual students to meet high academic expectations.
Some other analysts of these results have noted older small schools are not as effective. They suggest the Children First schools' newness, which translates into control over staffing and spending, greater financial resources, and association with outside expert partners, might be more important than their small size. As they conclude, "the evidence from New York City suggests that the success of [future] efforts will depend significantly on how those new schools are created and supported."
New charter schools are also highly effective. A research team at CREDO, led by Stanford's Margaret Raymond, compared test scores in New York City charter schools with traditional schools serving very similar students in New York State. (Charter critics, including Diane Ravitch, have celebrated CREDO's national study of charter schools, using the same methods, as valid and definitive.) In their most recent study, CREDO found that:
…the typical student in New York City charter schools gains more learning in a year than his TPS [traditional public school] counterparts, amounting to one month of additional gains in reading and five months in math. The learning advantage in Harlem equates to less than a full month of additional learning in reading but an additional seven months of progress in math. These outcomes are consistent with the result that charter schools have significantly better results than TPS for minority students who are in poverty, with more pronounced impacts in math than in reading.

In charter schools in New York City, Special Education students receive a significant benefit from charter school attendance compared to their counterparts in TPS in both reading and math.
In its 2010 report CREDO also concluded that:
Black and Hispanic students in poverty who are enrolled in charter schools show significantly better performance in reading and math than their peers in traditional public schools.
The 2013 report reproduces these findings.
Another study focused on New York City charter elementary schools.  Stanford economist Caroline Hoxby used a method similar to MDRC's. It compared students who won with those who lost in random admissions lotteries for charter elementary schools.
The students who attend New York City's charter schools start out with the same level of achievement as the students who entered but did not win the admissions lottery. Students applying (and admitted to) charter schools were 68 percent black and 29 percent Hispanic; 92 percent were low-income (based on eligibility for free and reduced price lunch) compared to 72 percent of all New York City students.
Hoxby reports that for students attending charter schools in grades 1 through 3, the average annual gain over lotteried-out students was 0.13 standard score units in English and 0.14 standard score units in math.
For each year after 3rd grade, Hoxby calculates that students attending charter schools gained at least 0.09 more standard score units in math and 0.06 more units in English. By her calculations in an average year charter school students' gains close more than 8 percent of the gap between disadvantaged students in New York City and children in Scarsdale.
In a critique of Hoxby's research methods, Stanford sociologist Sean Reardon urged caution about two aspects of the report. First, he argued that the claim that charter school students' rates of test score gain were enough for those who attended charter schools for all eight grades to close 66 to 86 percent of the Harlem-Scarsdale achievement gap by the end of 8th grade, was speculative, since few students in the study had been in been in charter schools for that long. Second, he noted that student gains after the 4th grade were computed from baseline tests administered after students knew whether they had won or lost the charter school admissions lottery. Reardon argues that testing after the lottery violated the study's assumption that students in charter and non-charter schools were alike in all ways except the school they attended. He also argued that Hoxby should have created a new control group each year, of students whose baseline scores for that year were identical to those of charter school students. Not doing this, he argued, likely inflated the observed achievement gains made by charter students after 4th grade.
Taking the most cautious course and accepting Reardon's criticisms without examining them critically, it is still safe to say that children attending charter schools in grades 3 through 8 made major gains over a randomly selected comparison group, and that children in charter schools in grades 4 through 8 made major gains over a comparison group that was identical to them at the time of the original admissions lottery.
A study of new middle schools run by two independent providers—Achievement First and Uncommon Schools—shows similar results. After three years in these schools, disadvantaged African American and Latino children got significantly higher reading and mathematics scores, and were less likely to change schools, than a matched sample of NYC middle schoolers.
The results produced by new small high schools and charters reflect the effects of signature education initiatives under Bloomberg. But of course the majority of New York City students are not in new high schools or in new charters. Did they gain anything?
Children in elementary and middle schools have greater access to high-performing schools. In new research by the Center on Reinventing Public Education's (an organization that I founded), Betheny Gross tracks the numbers of students in schools whose overall performance matches or exceeds the state average. Black and Hispanic students in New York City are now 10 percentage points more likely to be in an above-average school, than in 2006.  White and Asian students have also benefited by an average of five percentage points.
James Kemple, executive director at the Research Alliance for New York City Schools, reported across the board gains for all demographic groups of students on entering 9th grade. Across the board, students entering high school have higher scores on language arts and math and on tests of college readiness. Thus, Children First is not simply redistributing educational opportunity from more to less advantaged students.
That's the good news. The bad news is that black and Hispanic students are still barely half as likely to attend high-quality schools as are whites and Asians.
The overall trend in student test scores and progress toward graduation is positive for all students, including those in existing NYC schools. Carefully matching New York City schools with a control group of schools serving similar students throughout the state, James Kemple and colleagues tracked overall changes in achievement.They showed that, citywide:
Elementary school achievement is rising more quickly than in matched schools statewide;

Eighth grade proficiency scores are also rising more than in other cities; and

Eighth grade gains lead to greater improvements in overall graduation rates than in comparable schools nationwide.
Kemple also used a national benchmark test, the National Assessment of Education Progress, to compare rates of gain in New York and other cities. He found higher rates of gain in New York than nationwide. However, other scholars have identified some cities with similar National Assessment Educational Progress score increases and questioned any attribution of gains to New York's reforms.  There are reasons to think that NAEP gains are more meaningful in New York than in other cities, because New York experiences more population growth among disadvantaged students than any other US city and therefore must constantly make up a score deficit. However, it is impossible to draw a firm conclusion based on NAEP comparisons.
Aside from the possible National Assessment of Educational Progress gains, the results summarized here are rock solid. New Yorkers should be determined to keep these gains. Of course there is more to do. Graduation rates are still too low, especially for poor and minority children. Every child's options have been improved through new schools and choice, but the disadvantaged still don't have enough good choices.
These results are not accidents. They came because schools have more control of their staff and educators have both the opportunity and the incentive to work together. It is also because the numbers of high-performing schools, and of seats in high performing schools, have increased and the number of low performing schools decreased.
Disadvantaged students have better teachers in ways traceable to Bloomberg's policies. Opportunities to create and work in new schools and to work, in both new and existing schools, with teachers of like mind has made New York City a magnet for talented educators. City leaders have also recruited the best graduates of teacher training colleges, and looked outside traditional sources to fund the best new college graduates and career-changers. Further, by creating an incentive for principals to select only the best and not to tenure weak teachers, Children First put key decisions about teachers in the hands of those best equipped to make them.
A landmark study by Boyd, Lankford and Loeb shows how these measures have improved the teaching force. They found that measures of teacher quality including math and verbal SAT scores, scores on teacher qualification exams, and attendance at competitive colleges, have increased dramatically since 2002. The lowest-skilled group working in 2002 no longer works in the schools. This has raised the average skill levels significantly.
Most importantly, the concentration of the lowest skilled teachers in schools serving poor and disadvantaged children has disappeared. Teacher skill levels in all schools resemble those of schools that would have been rated above average in 2002.
Children First's emphasis on recruitment of new teachers from non-traditional sources (e.g. Teach for America and the local Teaching Fellows Program) greatly increased the numbers of teachers with high SAT scores and rigorous college educations. The policy of placing these teachers disproportionately in high-poverty schools transformed those schools' teaching forces. Boyd, Lankford and Loeb note that these changes were correlated with, but might or might not have caused, a substantial drop in the achievement gap between high and low-poverty schools.
Teachers are free to work with like-minded colleagues.  In the past, only the most senior teachers had real choices about where they worked. Other teachers had choices only among jobs more senior teachers did not fill, and new teachers often had no choice about where they worked.
Via a new collective bargaining agreement negotiated in 2005, teachers and schools were able to make much better matches. "Mutual consent hiring," means that teachers are more likely to work with others whose approaches to instruction are complementary. New teachers are much more likely to work in schools with quality experienced teachers who can help them.  As Goertz and colleagues show, quality new teachers are less likely to leave teaching within a few years than before the reforms.
Principals are recruited from among the best teachers. City leaders have sought the best people possible for the principalship. Rather than, as in the past, wait for potential principals to select themselves into administrator training programs, city leaders have sought the best from inside and outside the school system. Identifying natural leaders among teachers, they found hundreds of excellent people who had not sought the principalship. Some of course preferred to stay in the classroom, but many agreed to become principals. By offering challenging and efficient on-the job training and mentorship, the city prepared good people quickly so that transformative leaders would be available when needed. From 2010 to 2013, New York's Department of Education also implemented a pilot mentor program, under which potential new principals were apprenticed to heads of high-performing schools.  The program has produced 20 new school leaders who are supported by an experienced principal.  The Department of Education has continued to offer incentives for principals of high quality schools to develop staff members to open new schools.
The most important new initiative was the Aspiring Principals Program, which by 2012 had produced leaders for more than 225 New York City schools. According to the most thorough study of that program,
APP graduates are more likely to be African American and are typically much younger, on average, than other new principals…Schools receiving APP principals were initially much lower performing and enrolled a greater share of Black and Hispanic students than schools citywide and those staffed by other new principals.
Though it is difficult to link school performance to the presence of new principals alone, the same researchers concluded that their schools improved in language arts but lagged behind in mathematics.
The principalship is more challenging but a better job. Before the reforms, principals has lost much of the traditional school leadership function. Principals were expected to deliver positive school climates and good results despite having little or no control over decisions about teacher hiring, work assignments, or professional development, and no real ability to make spending tradeoffs. Generations of principals had experienced nothing else; many of the ablest educators avoided the principalship as a job with too many constraints and not enough chances of success.
The new policies redefined the principals' job, first with an autonomy pilot that put 200 principals in control of key staffing and spending decisions in 2006, and then, for all principals in the system. Some principals resisted this change at first but came to see the benefits. Though some never adjusted to the new mix of freedom and responsibility, most did. Moreover, excellent teachers, ambitious principals from other districts and unit leaders from other human service fields came to see a New York City principalship as an attractive job.
Dollars are distributed among schools much more equitably than before. Before Children First, the amount spent on a New York City child depended on what school he or she attended. Teacher choices drove school budgets: senior teachers could choose where they worked; expensive teachers clustered in particular schools, and the district hid the spending discrepancies between schools with high and low proportions of senior teachers. Budgets also reflected past programmatic choices (e.g. computer labs, special service and instructional programs), which often favored schools serving advantaged children.
These practices led to highly inconsistent and sometimes inequitable funding patterns across the city, with the schools serving the most disadvantaged children often employing the least experienced (and thus least expensive teachers). Even federal programs, meant to increase funding in poverty-area schools, did not consistently offset these inequalities.
The reforms attacked these inequities head-on via Fair Student Funding, which attached dollars to students and transferred them to the school in which a student enrolled. Weighting by pupil characteristics shifted funding even further. As Steifel and Schwartz showed, Fair Student Funding, as intended, increased funding available to schools serving low performing and special education students. At the high school level, the schools benefiting most were those with the highest poverty, lowest achievement, and greatest concentration of English Language learner students. Though funding for all schools has increased, high poverty schools have gained the most. Between 2001 and 2008 high poverty schools gained  $5,273 per pupil vs. $3,962 per pupil for the lowest poverty schools.
More of the available money is spent and controlled by schools, and less by the bureaucracy. Though at first schools gained control only over the funds spent on site (e.g. for salaries), over time the share of all funds spent by schools increased. These dollars came in part from foundations and private donors, but mostly from the New York Department of Education itself.  Schools gained increasing control over funds for teacher professional development, curriculum and instructional advice, teacher substitutes, and administrative services.
Schools were also increasingly free to trade one expenditure for another, e.g. reducing use of teacher substitutes in order to increase instructional time or buy better teaching materials. Schools were also free to get services by choosing independent support networks or other providers, and to target teacher training on subjects where students were not learning enough.
The new Innovation Zone allowed many schools to spend dedicated funds in unique ways to increase individualization and instructional time, support teaching with technology, and form partnerships with innovative school design groups. As this is written all schools are invited to imitate practices demonstrated by iZone schools.
Schools can decide where they get teacher training and other help. Before the reforms, New York like most other cities ran a company store system: Schools could get any form of assistance and teacher training they wanted, as long as they wanted what the central office could provide. All schools were taxed in advance for help; some of it was good and some not; and some schools couldn't get help on their most pressing problems.
Pupil-based funding meant that funds previously skimmed off by the central bureaucracy instead reached the school, and schools could pay for what they needed from a provider of their choice. Some paid assistance is now available from school support networks operated by the Department of Education, but much is newly available from universities, consulting firms, and quality nonprofits like New Visions. Schools can join in a network of schools adopting similar instructional programs, or they can hire different providers for different purposes.
Of equal importance, schools could stop paying providers that didn't deliver quality or keep promises. And, as Department of Education data and forthcoming studies show, schools do transfer their business from lower- to higher-performing assistance organizations. Nine out of 10 principals report being satisfied with assistance received from support networks – a higher satisfaction rate than for services still offered by the Department of Education.
Yet, hundreds of principals think the help their schools get could be more effective in improving instruction. Expectations have changed. Principals, not the Department of Education, have the money and are responsible for results, so they should not have to take whatever is on offer, whether from the department or existing support networks. Relative to these higher expectations, many schools would still like to get more and better help than is available. For them the glass is more nearly full than ever before, but it still partly empty.
The city's performance based accountability system has focused attention on schools where students are not learning.  The new school accountability system has been complex and controversial. But it accomplished one thing for sure: calling attention to schools with consistent patterns of low performance. It identified schools where rates of student learning were lower than in schools serving similar populations, and prescribed actions intended to improve learning opportunities for those students.
This system also called attention to schools where average student performance was moderate to high, but students gained relatively little each year. Via its annual progress reports, the system also informed parents about how well their child's school performed relative to schools serving similar students. These features of the accountability system put pressure on some schools that many people thought were good because of their high average scores. However, the city's system put much more energy into helping students in schools that were both low performing and low gaining. As Rockoff and others have shown, these schools disproportionately serve low income children and children of color.
In response to accountability system data, the Department of Education took a variety of initiatives, including targeted support in the areas the school was struggling, investment in staff training, change of leadership, replacing schools with new district-run and charter schools, and closing the school and allowing student to transfer elsewhere. The route taken depended in part on the severity of problems in the school and the availability of options. Though dramatic actions like reopening as a charter school or closure got the most attention, more modest actions like assignment of a new principal and reassignment of some teachers were more common.
Though there was some concern that adverse ratings would spell disaster for schools that received them, the weight of evidence is to the contrary. As Rockoff and Turner discovered, receipt of a D or F often leads to improvement of scores in the school the next year, and to higher quality ratings by parents. Though some schools with low ratings do not improve, others do. This puts into a positive light the policy of replacing or closing schools that remain very low performing for multiple years. It also makes it clear that schools neither should be nor are judged once and for all on "one test given at one time."
New school development has focused on meeting the needs of the most disadvantaged students. Investments in new schools are directly related to the accountability system. As neighborhoods and groups of children were found to be in schools that consistently failed to produce gains, the leaders of Children First developed new school options for them. This started at the high school level, where the first new schools were created in areas of the South Bronx where students had no convenient high-quality options. It spread to the elementary and middle school levels as well, with both school openings and closings most common on poor and minority neighborhoods.
Critics point out the remaining deficiencies of high schools in poor and minority areas: The vast majority of all new schools were improvements over what they replaced, but many children are still stuck in weak schools.
New School development ultimately extended to elementary and middle schools. The improvement in the availability of high performing schools for poor and minority children, reported above, is a significant accomplishment but far from enough to meet all needs.
Parents have new choices. One of the principles of Bloomberg's education agenda was to increase every family's ability to choose among good options for their children. Though as previous sections have shown that goal is still not met, it is clear that parents of all backgrounds and from all areas of the city have more and better options than before the reforms were adopted. As Sean Corcoran and Henry Aaron report,
The Bloomberg/Klein Administration has…significantly expanded the number of schools from which families may choose and has sought to simplify and streamline the process of application and school assignment. The administration has continually sought ways to make the process more transparent and fair…No longer are students permitted to attend a default-zoned school and avoid an active choice.
New York City now ranks second nationally in a Brookings Institution index of choice and competition for students. This index considers the number and quality of options available to parents, and equity of access to high performing schools.
Despite these positive trends, the latest research shows that low-income students have fewer quality choices close to home and therefore are less likely to choose and be enrolled in higher performing schools. Parents of elementary school students still have limited choices.
Taken together these changes are evidence of real progress. The public schools are now like New York: in a hurry, driven, determined to do better.
Children have gained, in many cases substantially, from Children First. Yet, the most effective elements of the strategy still haven't been fully implemented, and some children are still waiting for the new schools and other improvements that have benefited others.  As one group of critics has shown, even despite the gains noted here, "[T]he racial composition and average income of a student's home neighborhood are very strong predictors of a student's chance of graduating high school ready for college."
Reforming urban schools is not a game in which people count up overall score and declare a winner. Instead it is a civic effort to serve kids better. The issue isn't whether Bloomberg administration was right every time or did everything that needed doing. It wasn't, it didn't. The question is whether some things done should be built on, not reversed.
To keep the gains described above, New York needs to keep the elements of Children First that produced them. Claims that there must be a better way to get these results must be treated skeptically. The system that existed before 2002 was doing much worse; nobody has found a way to get better outcomes without making dramatic, sometimes wrenching changes.
New York's next mayor should commit to key parts of the Children First agenda, including:
Keep pupil-based funding. Continue to increase the share of total funding that goes directly to schools. The students most in need benefit most from pupil based funding.
Preserve gains in the teaching force via recruitment from many sources, rigorous tenure processes, and mutual consent hiring at the school level.
Keep opening new schools especially in neighborhoods where there are few or no high performing schools. Don't cut off chartering as one route to creating effective new schools.
Preserve gains in the quality of principals via rigorous selection and training and by maintaining principals' control over their school's staffing and spending, in-service teacher training, and purchases of assistance.
Perfect, don't scrap, reporting on student gains by school.
Keep performance based accountability and continue re-staffing and closing/replacing persistently ineffective schools. 
Continue the iZone experiment with new uses of money and technology, and help all schools use ideas that are emerging.
Nobody thinks Children First is perfect just the way it is. The new mayor will want to listen to new ideas—including from people who have worked on the Bloomberg initiatives and see how they fall short—and put his own stamp on the schools.  But he shouldn't toss anything out until he knows what it has contributed and what can be lost.