Black Boys Have an Easier Time Fitting In at Suburban Schools Than Black Girls
Minority young men are considered by their white peers to be cool and tough; minority young women, on the other hand, are stereotyped as "ghetto" and "loud."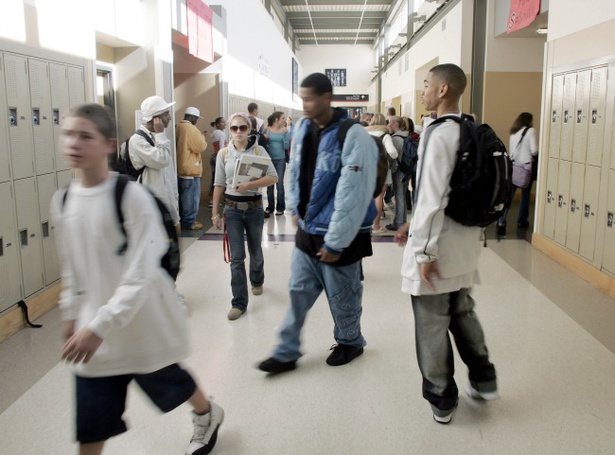 Though I'm sure my name was a hint, I happen to be black. My parents are West African (Mali and Senegal to be exact), and I was born and raised in France. When I was 13, my family and I moved to a suburban community outside of Atlanta. The school I attended, though relatively diverse for Georgia, was majority white. I had an easy time there. I made friends quickly, a lot of them white. To this day, more than ten years later, my friend circle is still very much white, populated by the people I met at my mostly-white high school, or at my mostly-white university, or in my mostly-white neighborhood. I have always attributed my ability to fit into both multicultural and white environments to my personality and my immigrant's need to adapt to whatever environment I'm in.
But recent research published in the American Sociological Association's Sociology of Education journal shows that my gender (male) was one of the determinative factors in the relative ease of my social integration. In an article published last year, Megan M. Holland, a professor at the University of Buffalo and a recent Harvard Ph.D., studied the social impact of a desegregation program on the minority students who were being bussed to a predominantly white high school in suburban Boston. She found that minority boys, because of stereotypes about their supposed athleticism and "coolness," fit in better than minority girls because the school gave the boys better opportunities to interact with white students. Minority boys participated in sports and non-academic activities at much higher rates. Over the course of her study, she concluded that structural factors in the school as well as racial narratives about minority males resulted in increased social rewards for the boys, while those same factors contributed to the isolation of girls in the diversity program.
Another study looked at a similar program, called Diversify. Conducted by Simone Ispa-Landa at Northwestern University, it showed how gender politics and gender performance impacted the way the minority students were seen at the school. The study shows that "as a group, the Diversify boys were welcomed in suburban social cliques, even as they were constrained to enacting race and gender in narrow ways." Diversify girls, on the other hand, "were stereotyped as 'ghetto' and 'loud'"—behavior that, when exhibited by the boys in the program, was socially rewarded. Another finding from her study was that because of the gender dynamics present at the school—the need to conform to prevalent male dominance in the school—"neither the white suburban boys nor the black Diversify boys were interested in dating" the minority girls. The girls reported being seen by boys at their schools as "aggressive" and not having the "Barbie doll" look. The boys felt that dating the white girls was "easier" because they "can't handle the black girls."
The black boys in Ispa-Landa's study found themselves in peculiar situations in which they would play into stereotypes of black males as being cool or athletic by seeming "street-smart." At the same time, though, they would work to subvert those racial expectations by code-switching both their speech and mannerisms to put their white classmates at ease. Many of the boys reported feeling safer and freer at the suburban school, as they would not be considered "tough" at their own schools. It was only in the context of the suburban school that their blackness conferred social power. In order to maintain that social dominance, the boys engaged in racial performance, getting into show fights with each other to appear tough and using rough, street language around their friends.
In the case of the girls, the urban signifiers that gave the boys so much social acceptance, were held against them. While the boys could wear hip-hop clothing, the girls were seen as "ghetto" for doing the same. While the boys could display a certain amount of aggression, the girls felt they were penalized for doing so. Ispa-Landa, in an interview, expressed surprise at "how much of a consensus there was among the girls about their place in the school." She also found that overall, the girls who participated in diversity programs paid a social cost because they "failed to embody characteristics of femininity" that would have valorized them in the school hierarchy. They also felt excluded from the sports and activities that gave girls in those high schools a higher social status, such as cheerleading and Model U.N., because most activities ended too late for the parents of minority girls. Holland notes that minority parents were much more protective of the girls; they expressed no worries about the boys staying late, or over at friend's houses.
Once minority women leave high school and college, they are shown to continue to struggle with social integration, even as they achieve higher educational outcomes and, in certain locales, higher incomes than minority men. Though, as presaged by high-school sexual politics, they were still three times less likely than black men to marry outside of their race.
For the second time in as many sessions, the Supreme Court heard a case about affirmative action last Tuesday. Following last year's Fisher v. Texas non-decision, the court will now be deciding whether states can ban the consideration of race in college admissions through ballot initiatives as the Michigan did in 2006. Based on the tenor of the oral arguments, some court watchers have predicted that the court's conservative majority will now take the opportunity to further limit the use of affirmative action in admissions across the nation. As Garrett Epps noted last week, it is nearly impossible to have a measured conversation about affirmative action, an issue that splits even the most ardent liberals. However, there appears to be a general consensus that minority populations benefit from these programs. But very rarely do commentators stop to consider the diversity of that minority population, and even fewer consider what impact affirmative actions programs have on the disparate, intersecting groups who participate in them.
A couple of months ago, Ebony.com editor Jamilah Lemieux started the Twitter hashtag #blackpowerisforblackmen to discuss the little-talked about but deeply-felt existence of black male privilege. Tweets like "#blackpowerisforblackmen because the Black men's problems are the community's problems" and "#blackpowerisforblackmen bc although black women played a pivotal role in the civil rights movement, we're only told about MLK&other blk men" speak to a history of minimizing of the experience of black women. The hashtag, which attracted no small amount of blowback from black males, revealed the dilemma that many black women face: having to combat both racism and sexism. Like the research about the diversity programs, the conversation showed that what we sometimes instinctively think of as "the black experience" is complicated by gender. The ostensible purpose of affirmative action is to increase the presence of minorities in colleges and universities. But as the Supreme Court considers further limiting the scope of such programs, it is important to remember that unless cultural expectations about race and gender change, full educational integration will remain a pipe dream.