Applying to College Shouldn't Require Answering Life's Great Questions
Essay prompts ask high school seniors to have it all figured out. But isn't that why you go to college?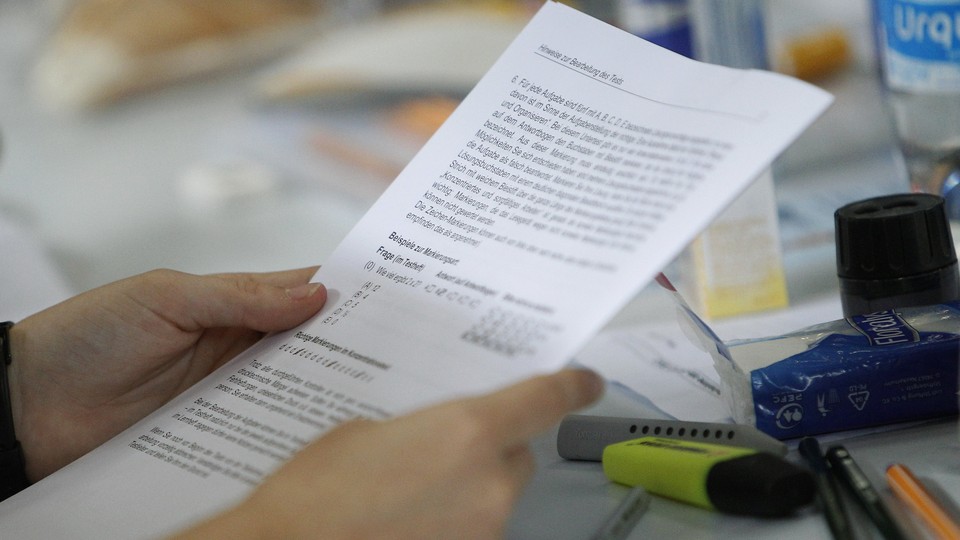 Brown University is asking applicants for the Class of 2017: French novelist Anatole France wrote: "An education isn't how much you have committed to memory, or even how much you know. It's being able to differentiate between what you do know and what you don't." What don't you know?
The University of Chicago would like high-school seniors to tell them: How are apples and oranges supposed to be compared? Possible answers involve, but are not limited to, statistics, chemistry, physics, linguistics, and philosophy.
Tufts would simply like to know: What makes you happy?
These essay prompts get at some of life's greatest questions. And as this year's college application season begins, 17-year-old high-school students around the world are frantically trying to answer with the insight and intelligence that will guarantee them an acceptance letter. Some are searching for profound thoughts and meaningful experiences in their short lives. Other applicants are embellishing the mundane in an attempt to make it sound extraordinary. High school students first come into contact with college through the admissions process. And right now, the first message they receive is: "Pretend to be something you are not."
There are innumerable sites that offer advice for college applicants, and almost all of them involve admissions experts pleading with students to "be genuine." But I don't blame a 17-year-old girl for thinking her authentic answer to "What makes you happy?" won't get her into college. My honest response—which probably would have involved Ben and Jerry's and a new episode of Gossip Girl—certainly would not have gotten me into school. It's not reasonable to tell a 17-year-old kid to "Be yourself!" while asking him to evaluate the meaning of knowledge in the 21st century or to discuss philosophical theories.
When I applied to college five years ago, the Common Application asked me to write about overcoming adversity. Some students have faced difficulties beyond their years by the end of their high school career. As a 17-year-old girl from New Hampshire attending a New England prep school, though, I hadn't exactly overcome earthquakes or famine in my quest for impressive SAT scores. The majority of my friends had also been fortunate enough to live fairly adversity-free lives. So I did what I am sure thousands of high school seniors are doing right now: I turned a relatively small, but age-appropriate experience into proof of my character and wisdom. I told the oh-so-tragic story of how I tore cartilage in my knee at the end of my senior-year field hockey season. It was not fun to hobble about the sidelines watching a team I adored play a sport I loved in the division championship. But I'm not sure I would qualify it as "overcoming adversity."
Why did I need to play at being an adult to get into college? The problem with the pressure to be smarter, wiser, and older is that it doesn't end when students get—or don't get—their acceptance letters. Throngs of 18-year-olds arrive at college every fall under the impression that college, rather than being a place to continue their education, is the prestigious capstone to all the growing and learning they did in high school. But, in my experience, college can and should be the opposite. It's a place to not take yourself so seriously and to challenge beliefs and assumptions about yourself and the world. It's where I took a computer science class, even though I was an English major. It's where the head of my high school's Democratic club did a stint in the Republican club and my roommate decided to study the visual arts even though she had spent high school winning science and math competitions.
Applying to college shouldn't be the intellectual equivalent of dressing up in your mother's clothes. It should be about displaying curiosity and excitement for the process of growing and developing into an adult. I'll resort to a cliche my college counselor certainly would have edited out of my application essays: College is about the journey. So why are schools asking high school seniors to already be at the end of it?