A New Goal for Colleges: No One Moves Back Home After Graduation
Many schools are overhauling their career centers to help students survive in a bad economy.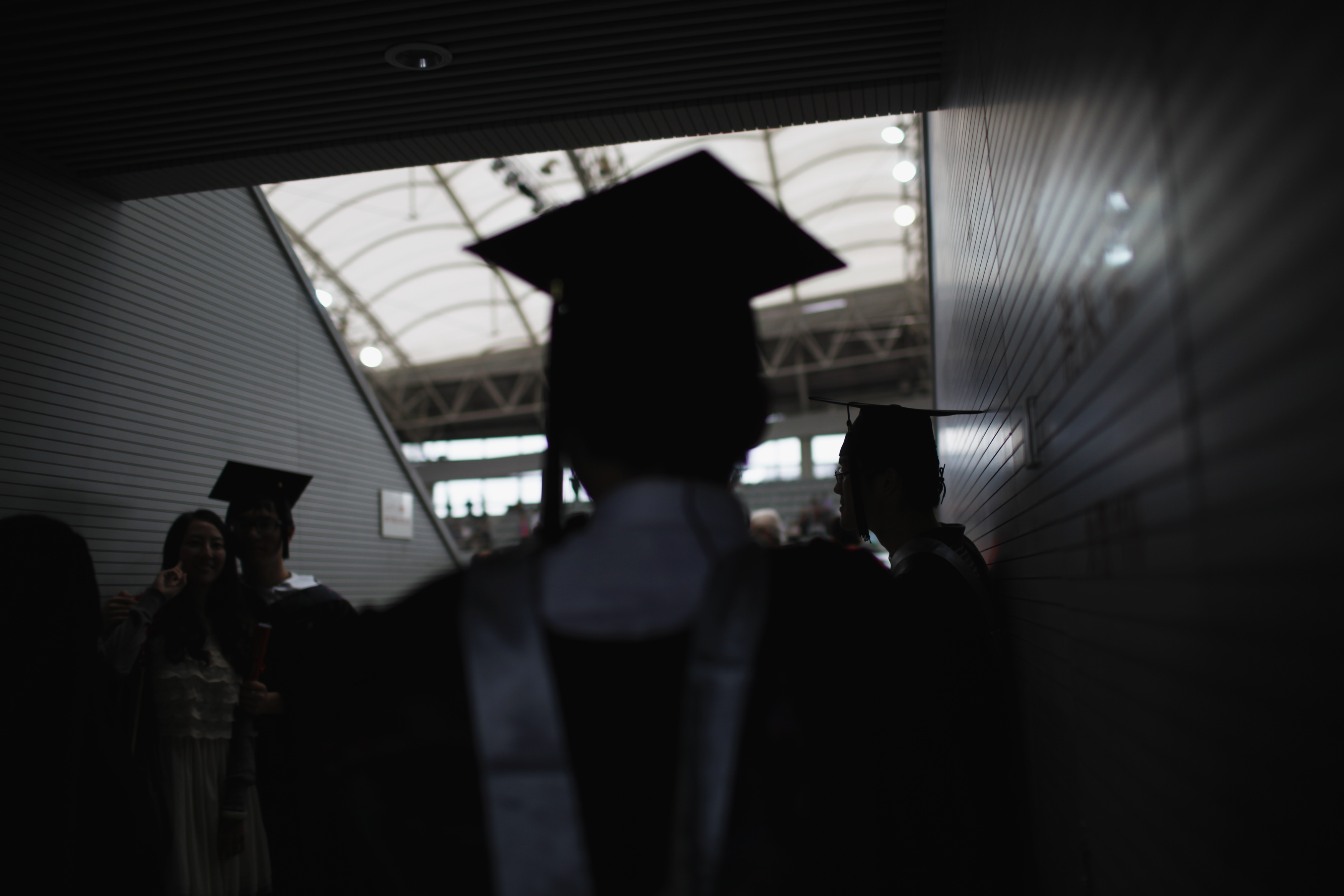 At the end of four years of college, graduates can write a well-researched thesis paper, present a group project and, on occasion, procrastinate with the best of them.  What they haven't been taught is the ins and outs of signing a lease or how to make a case for a raise. This lack of preparation is a concern for a lot of people: 62 percent of Americans believe that colleges and universities are only doing a "poor" or "fair" job of getting their students ready for post-graduate life and the working world, according to a recent survey by Northeastern University.
"By the time you're a senior in college, you're the best at your profession. Nobody's better at being a student than a college senior," says Mike Sciola, the Associate Vice President of Institutional Advancement and Director of Career Services at Colgate University. "Then in May…we lay you off."
Sciola says the way to make post-grad life less daunting and keep students from feeling lost is to teach them about the realities of the workplace even before students arrive on campus.  Institutions like Colgate, Wesleyan and Tulane working to implement changes in their career service offerings to make it possible for students to have a well of knowledge and connections to draw on well before their senior year.
"What the institution needs to understand is that unless [the school] has been thoughtful, and has invested resources, time, and strategy into helping students transition from their first profession to their next, [the students] are going to have a really rough time," Sciola says.  "It's no longer good enough to have a career center that's reactive or transactional. 2008 and 2009 fundamentally changed the experiences of seniors graduating into the workplace. And it's not going back."
Mary Alice McCarthy, a senior policy analyst for the New America Foundation's Higher Education Initiative, agrees. She says seeing tangible return on investment in career development has become an issue of the utmost importance because of the rising costs of higher education.  The recession only increased the urgency to examine it further. "The kind of data we need is longitudinal data…what we need is better outcomes data from higher education institutions so that we know over time what models are the most successful for people, so parents and students can make a determination about what works well for them. The more options the better," said McCarthy.
The career development model that Colgate University and Sciola are betting on is a recently revamped series called "Real World." The 18-year-old program was once a three-day career immersion event each January, but last year it was expanded into a full-year suite of programs.  Sciola says that starting the job hunt during the second semester of senior year is too late, especially when employers use the summer before to recruit. "We start in September with a big networking event on-campus where we teach networking skills, have 100 alumni back on campus and set up alumni panels.  We also throughout the fall and spring semesters run a series of workshops and events that are all designed to help students transition into life after Colgate."  That means students learn about everything from knowing their worth in a salary negotiation, to finding an apartment, dressing for success and buying a car. Over winter break, the school also holds networking events in the five major cities where Colgate students wind up, Boston, New York, Washington, D.C., Chicago and San Francisco. "We're arming them with the information that they need to be good self-advocates…The 'Real World' branding is a full-year strategy to get our students prepared and launched," said Sciola.
Sciola was the force behind a similar program at Wesleyan during his 17-year tenure as the school's career center director. Sciola says after the financial meltdown in 2008, seniors were paralyzed by the news they were seeing about their potential lack of job prospects.  Sciola's solution to "get students unstuck" was to put together a series of workshops that February called Senior Survival Month.  Sciola called on the Wesleyan graduates of the early 1990s who had experience entering the workforce in a poor economy and integrated their advice into the event's signature program, "Optimizing Career Resilience and Planning," or OCRAP. Yes, the acronym was intentional. The workshops touched on big issues like navigating office politics, how to address sexual harassment, and other topics that don't always come up in a resume review session, like whether it's okay to share proprietary information with your parents. According to Sharon Belden Castonguay, who was made Wesleyan's career center director in May, Senior Survival Month is no longer being offered. However, the school's job shadowing program has been re-launched, and students have the option of participating in one of two intensive week-long programs in January that focus on what goes into choosing the right major and career path, and a boot-camp introduction to the job hunt.
With help from parents and alumni, Colgate also raised $10 million in the last year to support student internships, and Colgate isn't the only school to involve parents in their career-preparation programs. At Tulane University's Career Wave program, which began this past January, more than 400 sophomores, juniors and seniors signed up for a full day of speakers, workshops and networking opportunities with Tulane alumni. James MacLaren, Tulane's undergraduate dean, says parents can be resources for informational interviews and potential work opportunities as much as the university's alumni are. "I make the argument to parents on day one that one of our goals is to make sure that your son or daughter isn't re-occupying the same bedroom as they are now in four years time. We want them to find their niche in life, and that means we're asking for your help in this." With positive feedback from students, the original Career Wave conference is going to be held again this winter, with plans to hold similar events all throughout the academic year.
According to a recent study from Georgetown University, the employment rate for young adults aged 21 to 25 fell from 84 percent to 72 percent between 2000 and 2012. Today's young adults earn enough money to reach the middle of the wage distribution by the time they're 30; three decades years ago, they hit that mark at 26. While the statistics may seem dire, the authors of the Georgetown study argue that "young adults will need to mix work and learning at earlier stages to accelerate their launch into full-time careers." Educators are hoping that with programs like Real World and Career Wave, their students will gain the skills to manage their careers for the long haul.