'160,000 Kids Stay Home From School Each Day to Avoid Being Bullied'
An astounding, alarming, and basically false statistic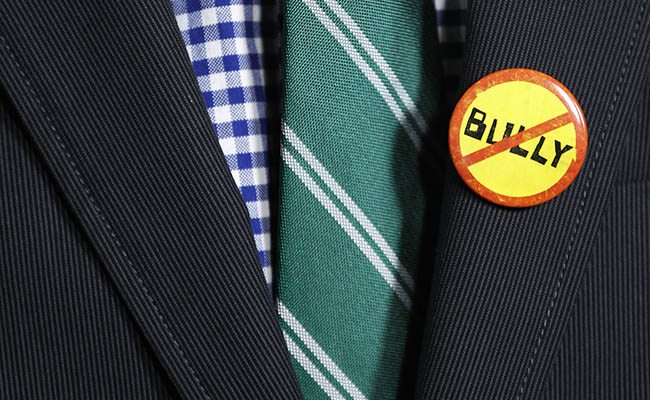 October is National Bullying Prevention Month. Anti-bullying advocates can sign the End of Bullying Begins With Me petition. They can buy a copy of the book Bullies: Playground Push-around and know that the proceeds are going to support bullying-prevention efforts. They can also educate others about bullying. Michelle Rhee, former chancellor of D.C.'s public school system, tried to do that yesterday when she shared this statistic with her Twitter followers:
More than 160,000 kids stay home from school each day to avoid being bullied. That's no way to receive a great education. Lets end bullying.

— Michelle Rhee (@MichelleRhee) October 2, 2013
More than 160,000 students missing school each day because they're afraid of getting picked on, taunted, beaten up. That's an astounding number. So astounding that it appears almost everywhere there's a conversation about bullying. The National Education Association listed it in a press release about last year's National Bullying Prevention Month. It's part of a National Association of School Psychologists PowerPoint on bullying. It's been cited in Time and Ladies Home Journal, mentioned in a New Jersey State Assembly press conference, and tweeted countless times.
The only problem is, the source of the "160,000 kids" statistic is murky at best. Several fact sheets and other documents credit the National Education Association as the source. When I contacted the NEA, a spokesperson said the stat comes from the National Association of School Psychologists. But, he warned, "it is at least a decade-old statistic." Trying to track down the NASP study, I came upon that PowerPoint I linked to above. I also found this PolitiFact item from 2011, which suggests the number dates back even further than 10 years--and that it was never a particularly robust statistic in the first place:
Katherine Cowan, a spokeswoman for the National Association of School Psychologists, confirmed the number came from her organization, "but nearly 20 years ago."

"The statistic is extremely old and not valid in 2011," said Cowan. "It's one of those things that the media really loved and grabbed onto and took on a life of its own."

Cowan said researchers calculated the number in the early 1990s from an annual survey conducted by the Centers for Disease Control and Prevention, but did not have specifics on how the statistic was determined.

The CDC's Youth Risk Behavior Surveillance System survey, which has been conducted since 1991, asks high school students several health-related questions.

One survey question asks students if they did not go to school in the last 30 days because they felt unsafe at school or on their way to or from school.

A survey released in 2010 found 5 percent of high school students nationwide stayed home from school on at least one day for those reasons. But the question doesn't ask why students felt unsafe, so the statistic could also apply to students who live in a high-crime neighborhood or fear crossing a dangerous intersection on their walk to school.
Bullying is a real problem. And it makes sense that people who are passionate about that problem want to draw attention to it with a big, eye-popping statistic. But spreading a poorly sourced number that doesn't hold up ultimately hurts the cause of ending bullying. It becomes easier for skeptics to ignore the problem.