Who's Going to (and Graduating From) College, in 7 Charts
A look at enrollment and completion rates by race, gender, and household income
Who's going to college? Who's graduating? And what are the differences in life outcomes for people who go to college compared with people who don't? At the Education Writers Association, we've put together several datasets to try to answer those questions.
Some of the datasets we compiled confirm conventional wisdom. Others were surprising, like the data on how long women have been outpacing men in degree attainment. Put together, the information we gleaned depicts a higher education landscape that is struggling to respond to demographic changes in the broader U.S. populace.
College Completion by Race
Below is a chart that visualizes the number of people who completed a bachelor's degree by race. The top of the chart shows the totals, while the bottom of the chart displays those numbers in percentages. Hover over the bars below to see specific numbers and percentages.
College Enrollment by Race
While whites are far more over-represented among students earning degrees, college enrollment tells a different story. In 1976 roughly 85 percent of all students in colleges and universities were white, but that figure dropped to less than two-thirds in 2011, according to U.S. Department of Education data. The chart below captures the enrollment figures the federal government collected from two- and four-year universities. Click around the bars for more information about a given year.
Broadly, the data visualized above show that the black share of total enrollment between 1976 and 2011 nearly doubled; the Hispanic share more than quadrupled. Although more underserved minorities are getting through the campus door, far fewer are donning caps and gowns, as shown in the college completion chart above. However, recent research has found that students who attended some college are still likely to earn more than those who stopped their education after earning high school diplomas. In recent years researchers have focused on paring the number of college dropouts to increase the workforce's share of college-degree holders.
College Completion by Gender
By the early 1980s, women edged out men in degrees earned. The trend began with associate's degrees in 1977, and by 1986 more women were earning bachelor's and master's degrees than men. Women began attaining more doctorate degrees than men in 2006. The line graphs below show the year at which females surpassed males in degree attainment— it helps illustrate a trend that began more than three decades ago.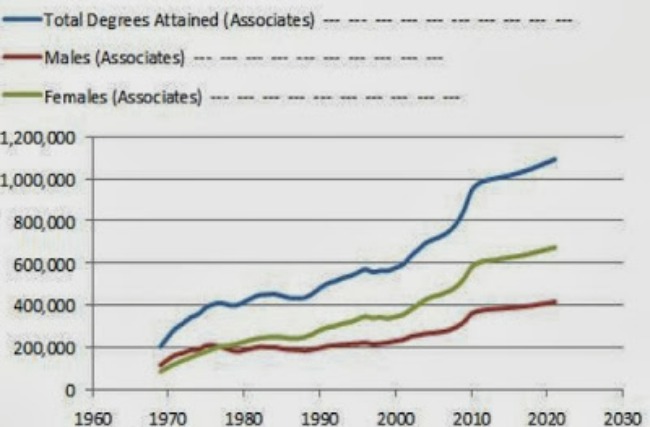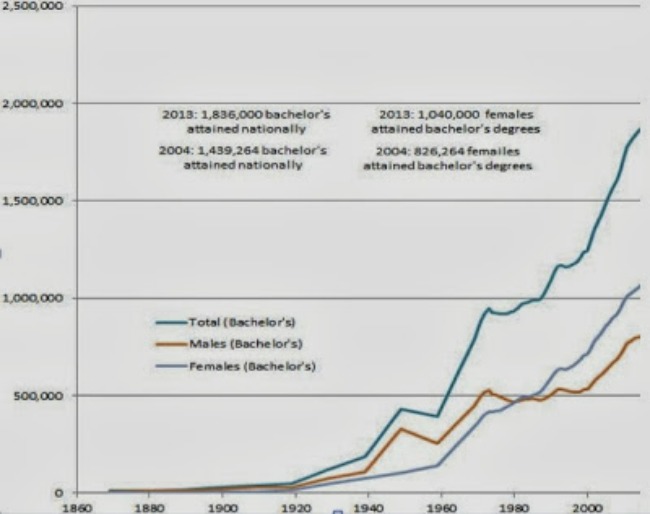 The chart below is interactive and uses Education Department data. You can see attainment figures along gender lines at the bachelor's level beginning with the Reconstruction era. The chart also shows total degrees earned across all degree types (two- and four-year institutions, bachelor's, master's, and doctorates). The bars expand in length as you scroll down.
College Enrollment and Completion by Household Income
Of course, race and gender aren't the only demographic characteristics worth exploring along the postsecondary waterfront. Household income is closely correlated with college completion. If college completion is the ticket to better wages (presently, workers with bachelor's degrees earn about 70 percent more than those with a high-school degree), the well-off have a huge advantage over their low-income peers. Recent reports show the poor are completing college at much lower numbers than their well-off peers, and that gap is expanding. A 2012 study, for example, found that a tenth of children from households in the lowest-income quartile and born in the 1980s completed college. Nearly half of children born in the same period who came from the top-income quartile completed college. And the gap in college completion between the poor and rich has widened compared to children born in the 1960s.
The chart below shows the enrollment (entrance) and completion percentages of children born in the early 1960s and those born in early 1980s. And as higher wages are increasingly dependent on a postsecondary degree, the large chunk of the population that's not attending a college or university is losing out on a greater share of wealth.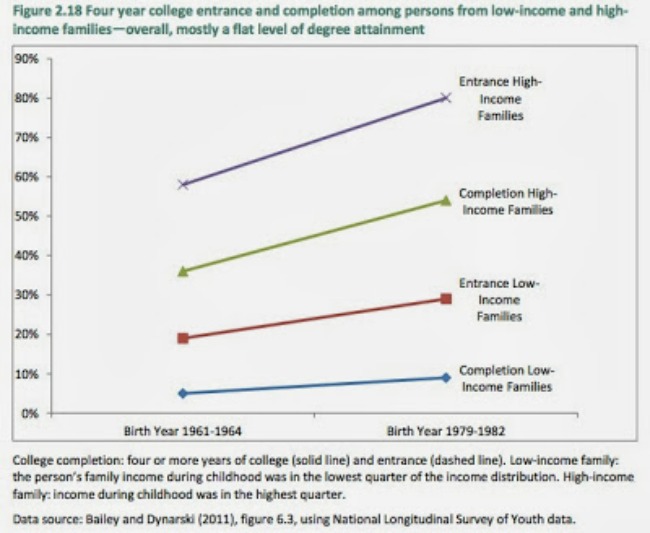 Recently the Pew Research Center put together a graphic that shows how households with at least one worker with a bachelor's degree have increased their share of the total wages Americans earn.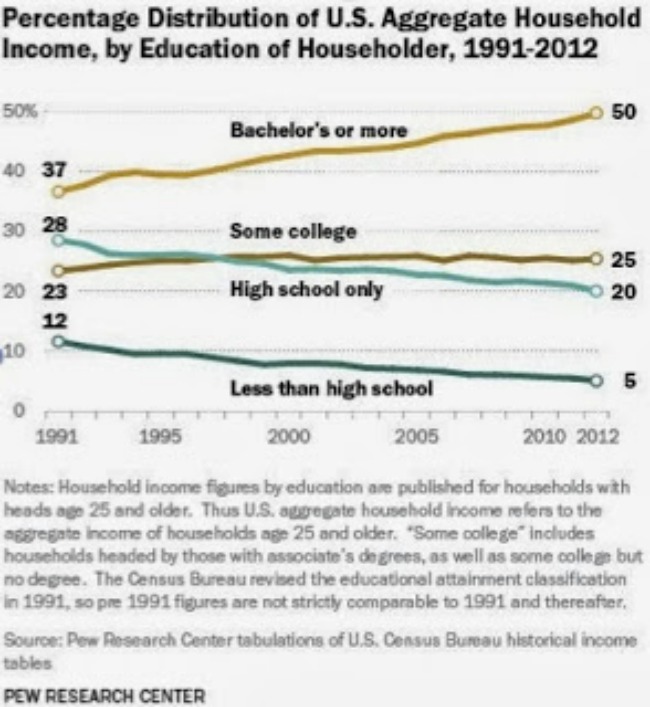 In 1991 one-fifth of the U.S. population was college-educated and earned 37 percent of all national wages. In 2012, college-educated households brought in one half of all wages—even though this group represents a third of the U.S. population. As news outlets document the flat wage growth among U.S. households since 1990, those with at least a bachelor's degree have experienced wage increases— further expanding the gulf in wealth between those fortunate to earn a degree and those who haven't.
---
This post also appears at The Educated Reporter, an Atlantic partner site.