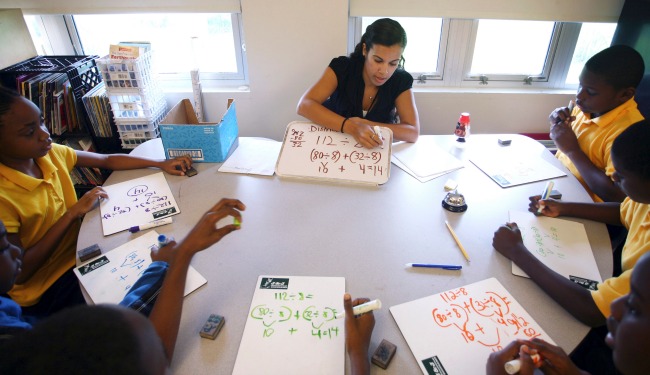 If a teacher is successful in the classroom, does it matter how she got there, or how long she intends to stay in the profession? Should personal qualities like perseverance and grit count just as much as completing the requisite coursework in curriculum and instruction?

Those are some of the questions being asked in the wake of a new study that reflects favorably on Teach For America's corps members who teach mathematics in schools that have typically struggled to fill teaching vacancies.

The study, conducted by Mathematica Policy Research for the U.S. Department of Education's Institute of Education Sciences, also found that the New Teacher Project's Teaching Fellows, an alternative hiring program, had student gains that were comparable to their peers who entered the profession through more traditional means. Those findings arguably open the door a little wider for discussion of the merits of alternative routes to licensure. Over at Slate, Matthew Yglesias makes a solid point about TNTP being at least as good at picking effective teachers as the traditional training programs that produce the vast majority of the nation's educator workforce.
 
The TFA aspect of the study looked at middle and high school students at 45 campuses in eight states, over two academic years. TFA corps members work at campuses serving high-poverty, high-need populations of students, many of whom are already lagging academically. The students of TFA corps members showed more academic growth in mathematics than their peers being taught by teachers who entered the profession via other paths, both traditional and non-traditional. It's worth noting those findings are in line with prior studies, including a 2011 working paper by the Center for Longitudinal Data in Education Research.
As Politico's Stephanie Simon pointed out in her reporting, "the gains weren't miraculous," with students climbing up to the 30th percentile from the 27th percentile. While that's still well below average achievement, Mathematica's researchers calculated the improvement was on par with 2.6 months of additional learning time.