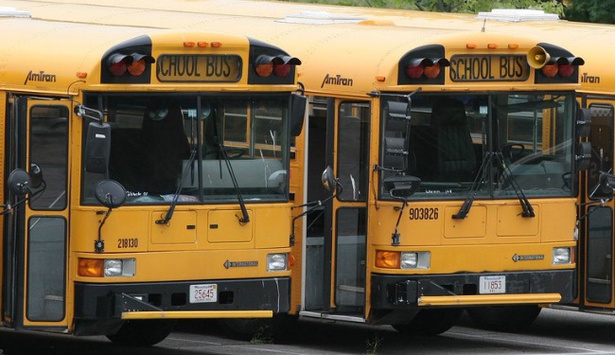 When my dad entered college in 1967, he brought a turntable and a huge stack of records. When I started 35 years later, I needed only my laptop and an Internet connection to play my favorite songs. Dad kept in touch with friends and family using a landline rotary phone or paper, envelopes, and stamps. My classmates and I had cell phones and email--we checked our physical mailboxes maybe once a week.
For all the ways my college experience differed from my fathers', though, the actual mechanics of learning--the way we did school--were nearly identical. We both moved away from home to a college campus, where we lived for four years. We went to big lectures and took notes with pen on paper. We also attended smaller seminars, where groups of students would discuss economic theory or Beowulf or French grammar, led by a professor or grad student. We took exams in big rooms, proctored by TAs. After four years of school, we graduated and started jobs.
That all sounds quaint now, 11 years since my first day on campus. In a lot of ways, higher education has changed more in the last decade than in the 35 years prior. The disruptions that have overturned the music, publishing, and manufacturing sectors are now starting to create havoc in education.
A combination of globalization and increasing Internet access means traveling to a particular campus to study is no longer essential. Schools such as Georgetown and New York University have opened branches overseas, allowing foreign students to attend American universities without leaving their home countries. Even more radically, web-based distance learning programs have made it possible for people anywhere to take classes and even earn degrees without leaving home at all. The Internet has changed how education happens inside the classroom as well. More than 40 percent of K-12 teachers say their students use tablets and e-readers in class--tools that didn't exist 10 years ago.
The economics of education are also in flux. Student debt has skyrocketed even as a college degree has become less of a guarantee of a good job than it once was. In 2007, the year after my college graduation, the unemployment rate for recent college grads was 7.7 percent. By 2009, it had doubled to 15.5 percent.
The changes of the last decade aren't limited to higher education, of course. In 2002, No Child Left Behind went into effect, ushering in today's era of high-stakes testing for public-school students. A burgeoning education reform movement has championed the growth of charter schools--which doubled in number between 2000 and 2010--and challenged teachers' unions. Teach for America has nearly quadrupled in size, from 1,600 incoming teachers in 2003 to 6,000 in 2013. (I was part of the 2,500-teacher class of 2006.) That growth has brought critics, including alumni themselves.
To chronicle these and other major changes, The Atlantic is launching an Education channel. We'll be tracking the rise of MOOCs, the fate of education reform, advances in early-childhood education, and the strategies other countries use to educate their young people. But we'll also be paying attention to the issues every generation faces: the power of schools to both inspire and frustrate students, the questions parents ask as they make choices about their children's academic futures, the barriers many people continue to face in the pursuit of a high-quality education.
This is a topic that our magazine has covered since its earliest days. In 1859 it asked, "Ought Women to Learn the Alphabet?" (The answer was yes. You're welcome for clearing that up, by the way.) Half a century later, W.E.B DuBois made the case for why black Americans should be entitled to similar educational opportunities as whites. In 1967, Jonathan Kozol wrote about the heartbreaking conditions in the Boston school where he'd taught. A few years ago, Amanda Ripley wrote "What Makes a Great Teacher," about the efforts that are being made to eradicate the inequalities that Kozol wrote--and continues to write--about.
We've also focused on the more personal side of education. In 1934 the magazine published "Good-bye Mr. Chips," a story about a beloved elementary school teacher, which went on to become a novel, TV series, and movie. In 1943 there was "The Education of a Queen," which described then-Princess Elizabeth's schooling. More recently, Caitlin Flanagan wrote about the bizarre experience of being a college counselor at an elite prep school. And we've been covering education for many years now on TheAtlantic.com.
From pre-K and high school to higher ed and on-the-job training, the pace of change in education is rapidly accelerating. Nothing could be more important--or to us, more interesting-- than telling this story. Feel free to email me here with any questions, comments, or story ideas, and follow us on Twitter at @TheAtlanticEDU.
We want to hear what you think about this article. Submit a letter to the editor or write to letters@theatlantic.com.