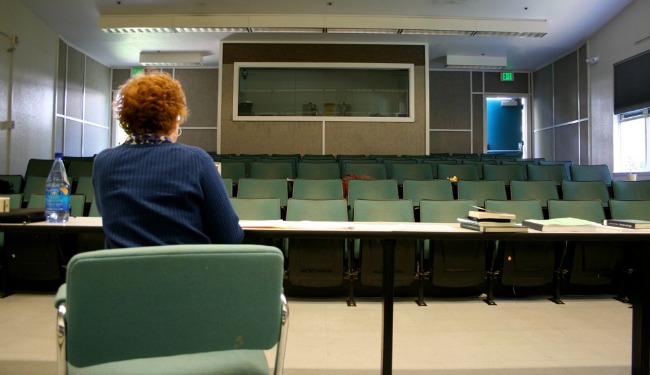 In my classroom at the community college where I teach, students can sit in two types of seats: at computers, which are arranged in horseshoe formation facing three walls in the room,or at the four rows of long desks that are in the center. It's a tight space, each table seating seven students. But every morning we meet, as if by instinct, my freshmen choose these desks over the individual computer stations. They wait to be asked before logging onto the PCs -- and they wait sitting quite close together. They are an ethnically diverse group from various Baltimore communities, different socioeconomic backgrounds, and a wide range of college preparedness. 
Their desire to sit shoulder-to-shoulder, facing me, is essential. It means, whether they realize it or not, that their concept of college is driven by human interaction. The Internet, which many of them access nonstop through smartphones, is a secondary resource in our classroom. I, the live person, smiling encouragingly as they expound on a thought, am the first. 
When discussing the rise of online learning and free massive open online courses as waves of the future, many ignore the dynamic a classroom like mine provides for a population often let behind. An unawareness of this important dynamic was evident at a recent public conversation between Google executive chairman Eric Schmidt, New America Foundation president (and Atlantic contributing editor) Anne-Marie Slaughter, and Buzzfeed president Jon Steinberg, when they discussed the apparent flaws in the traditional college model.