Are We Asking Too Much of Schools?
Everyone wants kids to get the support they need, but are reformers right to rely on schools?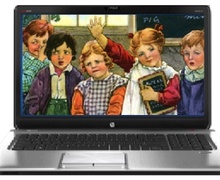 For most New Yorkers, education is a troubling issue. A recent Manhattan Institute poll indicates that forty percent of likely voters in the city think primary and secondary education is one of the top two issues facing the city, and about two-thirds of voters rated schools there as "fair" or "poor."
Are there any clear ways to improve New York City public schools and other school districts across the country? Every reform seems to have its enemy, and for good reason -- there are upsides and downsides to almost every approach.
A recent Atlantic working summit tackled the topic of holistic support for kids, which seems like something everyone wants; the true challenge comes in translating that idea to actual reform. Some reformers advocate schools that do more than educate: They should provide health care, job training for parents, family counseling, and more, these reformers say. But is that asking too much?
Cynthia Nixon, education activist and actress of Sex in the City fame, recently participated in an Atlantic working summit on this topic, and she reflected on this question in an interview. "We expect the school to be the mother, the father, the guidance counselor, the doctor, the nurse, the cook, the police officer. We're asking a lot of our schools, and maybe we're asking too much. But from my point of view, schools are ideally situated to step in and fill in the gaps that kids may not be getting at home, whether it's educationally, or nutritionally, or emotionally."
Amy Ellen Schwartz, who directs the NYU Institute for Education and Social Policy and also participated in the working summit, encouraged policymakers to broaden the conversation beyond the classroom and topics that typically get a lot of hype. In part, her research focuses on the way crime, housing, mobility, and other social factors shape kids' performance in schools -- issues that don't have a clean solution.
"I'm really sympathetic about how these things matter, and I love the idea of community schools that try to connect these. On the other hand, we've tried some of these things before with not such great success. The problem with community schooling can be that if ties to the community get too tight, then you may be exacerbating some of these issues. It works really well in middle-income and high-income neighborhoods, but poorly in low-income neighborhoods -- you go to a local school that isn't so fabulous, and so you're sealing everything in a package that exacerbates inequality. I think it's very promising -- we just don't want to overdo it."
She was equally cautious about focusing too much on parents' ability to choose their children's schools--something that was part of a "common refrain during the Klein/Bloomberg education years," she said. "We need to reconsider how much we have relied on choice as a mechanism to drive change. We have seen that it's not actually work as well as we hoped -- we have intensely segregated schools. This has not made it that much worse, but it has certainly not made it better."
Although Schwartz and Nixon both work for education reform in a broad sense, they are also mothers, and both of their perspectives have been shaped by their experiences as parents.
Some conversations about education help make progress, Schwartz said, but much of the focus is still on privileged students. "I'm a Stuyvesant alum, and the mother of an alum, and the daughter of an alum, and these are great schools and they have issues, but we spend way too much of our energy worrying about that. This mirrors our national obsession with talking about what they do at Harvard or Yale or Princeton -- you know, who cares?"
But there's a lot of school for students to get through before Princeton even becomes a possibility, and to Nixon, years of school build grit and hopefully expose kids to diverse people and ideas. "I think it's really important for my kids to grow up in a diverse environment: Diverse racially, diverse economically. ... You know, we're a gay family, and we want there to be other gay families, but we want to be among straight families, too. I want my kids' schools to be as much like the real world as possible so that they don't grow up in a bubble and all of the sudden they're released into the real world and it's unfamiliar to them."
That's a tall order for schools: To educate, cure, and counsel, protecting kids from the real world, but also preparing them to deal with tough stuff early on.