Blogs from a northern town
by Dave Weigel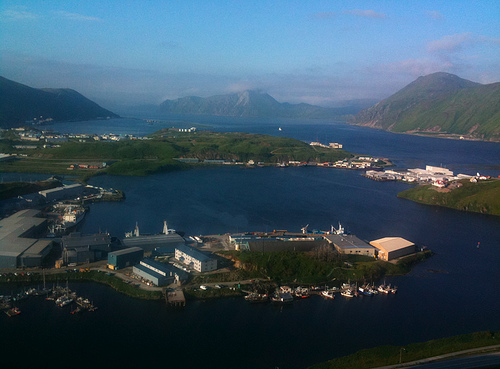 UNALASKA, AK -- So here's a question that no one has asked me.
"What's it like to blog from a remote location like historic Dutch Harbor/Unalaska, America's largest fishing port?"
Well, I'll tell you. It's rife with difficulties! In previous posts I've mentioned that everyone on this island gets Internet access from a satellite, and I have now learned that the mountain the satellite pickup rests on is called "Haystack." So it's slow. It's also hard to finesse. I'd like to work closer to the girlfriend I came out here to visit when I'm at her radio studio. But the connection is slow near her office and, relatively, fast in an adjacent room where a bunch of high schoolers are recording a radio show that, for reasons that elude me, makes frequent use of a dance remix of Air Supply's soft-rock classic "All Out of Love."
We are used to blogging quickly. That means more than posting; that means opening multiple windows to find links and insert YouTube videos into posts. That means catching e-mails and chats quickly and following up with them as you write. None of that's really possible here, and the result is, well, the sort of blogging we used to do in 2000 or so -- the blogging I read at AndrewSullivan.com when I was loading it on an ethernet connection at college. It's slow. It's full of lag time to re-think and over-think ideas.
For the news blogging I'm accustomed to, this is unsustainable. When I work I try to get things first, get quotes first, get numbers first. I use my cell phone -- which doesn't work here -- and I meet with sources -- who don't live here. You also realize how much trash code, and how many useless widgets, exist on sites now built for the broadband world that covers basically everywhere you aren't. But for 2000/2001-style muse-blogging, this might be ideal. Plus, if you're up for it, you get local news alerts like this.
07/05/10  Mon 1055 Theft – A man reported his white Ford truck, in which he had left his keys, was missing from the area of the APL dock. Responding officers found that a crewman on a boat docked there had been told to take a white Ford truck with keys in it to the grocery store. He did exactly that, not realizing he had taken the wrong white Ford truck. No charges were filed.