The Death and Life of Great Financial Centers
by Richard Florida
New York and London are consolidating and strengthening their positions atop the global financial system, according to the FT's John Pender.
The latest edition of the Global Financial Centres Index (GFCI) shows these two leading centers to be considerably more "resilient" than others, ranking as the world's only "truly global financial centres."
The GFCI, which is based on surveys of financial experts and professionals, rates financial centers on a point basis. London was on top with a rating of 781, followed by NY with 768. The ratings for these top financial centers fell only 10 and six points respectively since the onset of the crisis.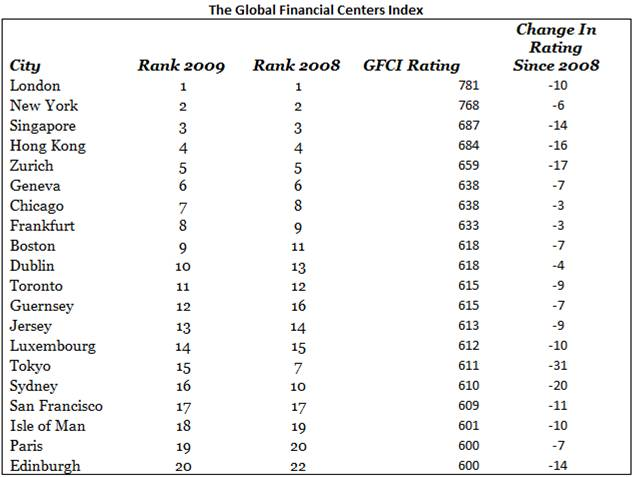 The next three centers - Singapore, Hong Kong, and Zurich - saw their ratings nosedive by 14, 16, and 17 points respectively. Tokyo has fallen out of the top 10, slipping to 15th place. Chicago is seventh, Boston ninth, San Francisco 17th, and D.C. 21st. Toronto is 11th.
Pender suggests that the only "plausible thesis" is that heightened competition to London and NY can eventually come from Asia. He points specifically to Shanghai, noting that China is running huge surpluses, its banks are well-capitalized, and its government is working hard to turn Shanghai into a global financial center by 2020.
But Shanghai currently ranks 35th on the GFCI, around the same as the British Virgin Islands and the Bahamas. Never mind it plummeting a whopping 30 ratings points over the course of the crisis. And there is considerable competition within Asia for the top financial spot - pitting Shanghai against Tokyo as well as Hong Kong and Singapore.
Perhaps a combined Shang-Kong center can emerge over time. Shanghai has the industrial muscle and economic size and scale, while Hong Kong brings openness and attractiveness to global talent.
But major banking centers are extremely resilient.  Even though New York overtook London during the last economic crisis of the Great Depression, London has come roaring back and once again eclipsed the Big Apple.
The real action will be further down the chain, as the economic crisis continues to wreak havoc on second- and third-tier financial centers.