I'm glad to see that a new PBS special takes its time to let people know just how responsible the Bush administration was in setting the scene for the current financial mess. It wasn't just the spending; it was the massive borrowing, and the culture of debt that the Bush administration fostered. The president, and vice-president, by scoffing at the notion that deficits matter, gave a signal to the entire country: borrow and buy. And so you get a graph like this: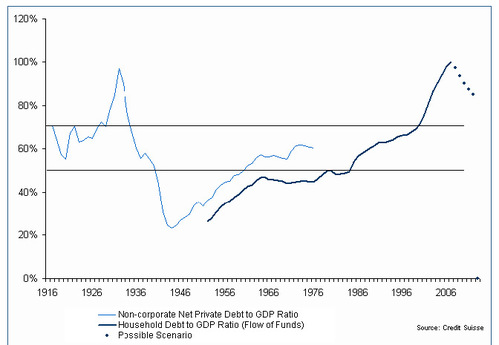 Note when the most recent lift-off occurs. Laura Conaway quotes David Beim:
"The problem is us. The problem is not the banks, greedy though they may be, overpaid though they may be. The problem is us... We've been living very high on the hog. Our living standard has been rising dramatically in the last 25 years. And we have been borrowing much of the money to make that prosperity happen."
Of course, the problem of private and public debt didn't start with Bush, and the recklessness of the mortgage companies and greed of many, many Americans are not all his fault. But his marked insouciance toward the question of debt - and his own fiscal irresponsibility - undoubtedly made things much worse. This graph, as Nate Silver notes, also shows how the housing bubble was the key to giving people the leverage to go even more out on a limb than they should have.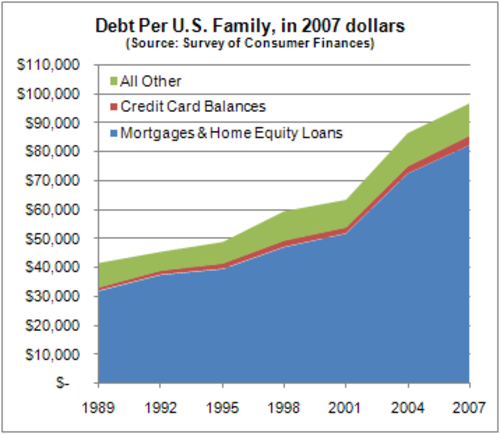 Household debt increased by 52% between 2001 and 2007. Americans began to treat their finances the way their president did the country's. This must be remembered, however hard the Republicans try to get us to forget it.