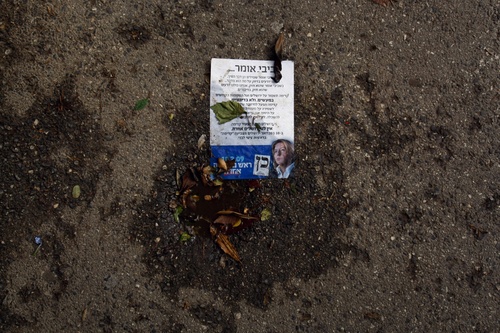 Polls close in half an hour. Shmuel Rosner is live-blogging. The NYT has a big election news round-up. Here is some bloggy pre-election commentary. Marc Lynch:
I spent a good part of yesterday afternoon watching al-Jazeera's coverage of the Israeli elections.  I've also been reading editorial commentary and news coverage from across the Arab world. I'd like to be able to say that Arabs are on the edge of their seats awaiting the outcome.  But that's not what I'm seeing. For the most part, the elections are seen as a choice between bad (Livni) and worse (Netanyahu) with Lieberman the "real" emerging face of Israel.  This isn't like 1996, when the choice between Peres and Netanyahu seemed stark and urgent.   Today, they survey the wreckage of Gaza and see little reason for hope regardless of the outcome.   Whoever wins the election, argues the journalist Mustafa Zayn in al-Hayat, the true winner will be Ze'ev Jabotinski and his doctrine of the "Iron Wall.
I'm still assuming that Netanyahu squeaks this one out...I've never felt the hostility to him that my fellows travelers on the Zionist left feel for him, in part because I remind myself constantly that it's the hard-ass right-wingers who will deliver peace. Barak couldn't do it, though he obviously is capable of delivering war.
Joe Klein is in Jerusalem:
I would say that this is an exciting election because of its closeness and uncertainty, but no one in Israel seems very excited. They are faced with familiar choices who have failed in the past--Netanyahu, Barack--or uncertain ones (Livni) or populist resentment (Lieberman).
Avigdor Lieberman's Yisrael Beitenu party seems almost certain to become the country's third largest parliamentary faction and, as such, a member of whatever ruling coalition the new prime minister forms...Press reports about Lieberman have focused on his promise to require Israel's Arab citizens to sign a loyalty oath in order to preserve their citizenship. Stripping citizens of their rights because of their political views and ethnic origin is manifestly anti-democratic, but that's hardly where it ends. Lieberman wants to strip Israel's Supreme Court of its powers of judicial review and create a separate constitutional court to review legislationa court whose members would be elected. This politicization of the constitutional process would endanger the rights of all of Israel's minoritiesnot just Arabs, but religious, ethnic, and ideological minorities as well.
...the fact that Lieberman has been able to make 'Arab disloyalty' into an issue and has exploited it to increase his political capital does not mean that there is much that he will, or will be able to, do about it, but in an election where some pundits see little difference between the 3 major candidates, Lieberman is likely to make things interesting.
(Photo: A campaign leaflet for Kadima party head Tzipi Livni lies on the rain-dampened pavement outside polling station February 10, 2009 in Jerusalem. By David Silverman/Getty Images)