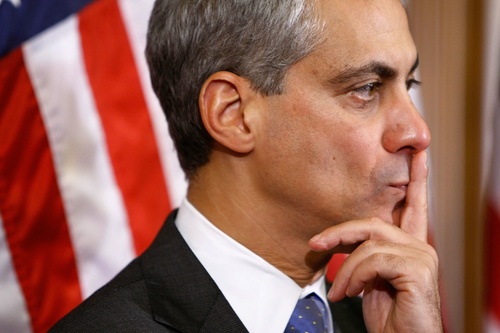 Whenever I've come across him, he has seemed like a massive, world class, meshuggena asshole. Goldie explains:
I've known Rahm for a long time, and he's yelled at me for no good reason on many occasions. This, of course, is the way he expresses affection.
He loves me! Then this:
Rahm, precisely because he's a lover of Israel, will not have much patience with Israeli excuse-making, so when the next Prime Minister tells President Obama that as much as he'd love to, he can't dismantle the Neve Manyak settlement outpost, or whichever outpost needs dismantling, because of a) domestic politics; b) security concerns, or c) the Bible, Rahm will call out such nonsense, and it will be very hard for right-wing Israelis to come back and accuse him of being a self-hating Jew.
Time for Krauthammer to panic. David Corn, on the other hand, is worried:
When I attended Obama's final campaign rally at Manassas, Virginia, on Monday night, I asked Obama supporters in the massive crowd what they wanted to see in an Obama presidency. There was a pattern in the replies: the older white guys all said they wanted Obama to move beyond partisan confrontations and remake the political culture of Washington. That is, they really were moved by his campaign trail vow to bring a new kind of politics to the nation's capital. So Obama ought to take steps that meet that rhetoric darn fast. Appointing Emanuel obviously doesn't fall into such a category.
It all depends on what a chief-of-staff would do in an Obama administration. I see this at first blush as a bad cop to match a good cop within the administration and someone who won't sugar-coat anything for the boss.
(Photo: Chip Somodevilla/Getty.)