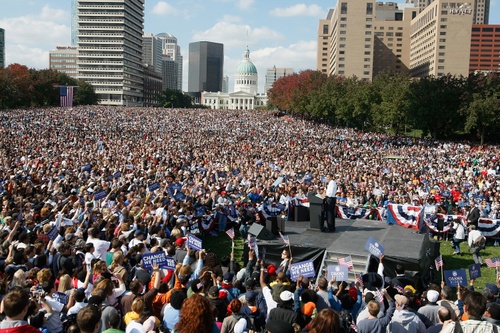 It's what could make the final difference in this campaign. As I said on Chris Matthews this morning, this race has tightened a bit already and will probably tighten again. But it is also possible that the race could widen, and defy the final polls - in Obama's direction. Why? Money and organization:
Obama's primary campaign was brilliant, not just because his message was so powerful: it was because he worked out how to make the machinery of politics work for him. He mastered the art of the caucus; he used the internet as a way to find voters and then got them to the primaries and caucuses. He beat the Clintons largely because he out-hustled them on the ground. Remember 2004? The reason Karl Rove and George Bush won, despite losing in many polls, was because they found and organised a new bloc of white, evangelical voters and brought them to the ballot box. This time, it's Obama who has found the new voters under the radar: the young, the disengaged, various minorities and a large phalanx of middle-class white Americans. Of all the unprecedented money he has raised, he has poured an equally unprecedented amount into his ground game.
Staff and volunteers are right now working phones relentlessly, walking streets, knocking on doors, constructing peer-to-peer networks and focusing almost mani-cally on turning out their voters on election day and before. Obama has even managed to insert ads for early voting into video games.

Voting has already begun in many states, by postal vote and old-fashioned ballot boxes. The candidate who has the superior organisation will add at least a couple of points to his eventual margin. I know of no objective observer who doesn't believe that Obama's ground game is much, much better than McCain's right now.
His major enemy is complacency among the young.
(Photo: Democratic presidential nominee U.S. Sen. Barack Obama (D-IL) speaks during a campaign event at the Gateway arch in the Jefferson National Expansion Memorial October 18, 2008 in St Louis, Missouri. By Joe Raedle/Getty Images.)