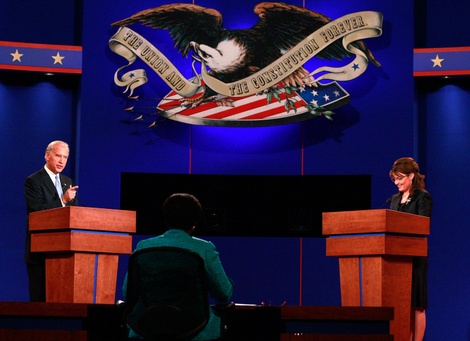 Biden didn't put the boot in; he didn't come off as sexist; he didn't make any obvious gaffes. Palin didn't collapse and pushed through the debate with enough speed not to wobble. But it felt as if she needed the speed in order not to wobble. Her inexperience showed; her tone worked best at first and then began to grate. I don't think this debate changed the direction of this election campaign, and I think Palin's performance will buck up base Republicans but actually unnerve some independents.
The campaign's trajectory remains unaltered. Palin's inability to answer real questions, her capacity to avoid follow-ups, her slightly manic quality, and her inability to relate to working class voters came across. Biden did not talk too much; he made no sexist gaffes; he didn't appear to be overweening; he seemed like a nice guy. I think she managed to avoid a tailspin; he reassured. It will stem the GOP collapse a little. But it won't change the race.
What we need now is a press conference with Palin. She needs to be forced to answer follow-ups. She needs to be made accessible to the press and thereby the American people.
(Photo: Scott Olson/Getty.)