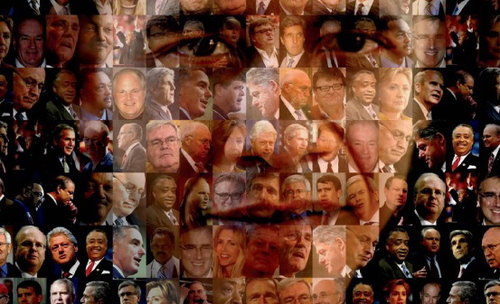 Steve Chapman expresses the core reason for Obama's success:
From the moment he vaulted into national consciousness with his inspiring speech at the 2004 Democratic National Convention, this theme has lain at the heart of his approach and his appeal. "We worship an awesome God in the Blue States, and we don't like federal agents poking around in our libraries in the Red States," he reminded us then. "We coach Little League in the Blue States and yes, we've got some gay friends in the Red States."It is a message of fundamental unity and good will, at a time when politics often resembles Henry Adams' mordant description: "the systematic organization of hatreds."
It is what Reagan did as well. And the great crushing blow of this campaign is to have watched John McCain run a campaign that is, at its worst, "the systematic organization of hatreds." My essay of a year ago on Obama's potential to get us past the toxic, red-blue, boomer divide can be found here. In trying to write my own endorsement of Obama these past couple of days, I realize I already said almost everything I wanted to say in that piece.
And the events of the last year - and the deepening darkness we are in - have led me back to Square One:
If you believe that America's current crisis is not a deep one ... if you believe that today's ideological polarization is not dangerous, and that what appears dark today is an illusion fostered by the lingering trauma of the Bush presidency, then the argument for Obama is not that strong ...
But if you sense, as I do, that greater danger lies ahead, and that our divisions and recent history have combined to make the American polity and constitutional order increasingly vulnerable, then the calculus of risk changes. Sometimes, when the world is changing rapidly, the greater risk is caution. Close-up in this election campaign, Obama is unlikely. From a distance, he is necessary. At a time when America's estrangement from the world risks tipping into dangerous imbalance, when a country at war with lethal enemies is also increasingly at war with itself, when humankind's spiritual yearnings veer between an excess of certainty and an inability to believe anything at all, and when sectarian and racial divides seem as intractable as ever, a man who is a bridge between these worlds may be indispensable.
 
We cannot let this moment pass.