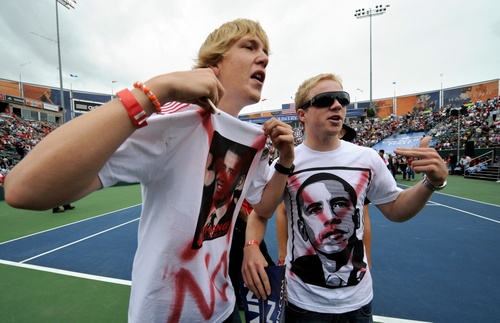 This sent chills up my spine:
"Now it turns out, one of his earliest supporters is a man named Bill Ayers," Palin said. "Boooo!" said the crowd. "And, according to the New York Times, he was a domestic terrorist and part of a group that, quote, 'launched a campaign of bombings that would target the Pentagon and our U.S. Capitol,'" she continued. "Boooo!" the crowd repeated.

"Kill him!" proposed one man in the audience.
Is this really the kind of sentiment that McCain and Palin want to provoke in this campaign?
(Photo: Republican supporters wearing T-shirts featuring pictures of Democratic presidential candidate Illinois Senator Barack Obama with cross marked as they cheer while waiting at the Home Depot Centre before Republican vice-president candidate Sarah Palin arrived for a campaign rally in Carson on October 4, 2008. By Jewel Samad/AFP/Getty.)