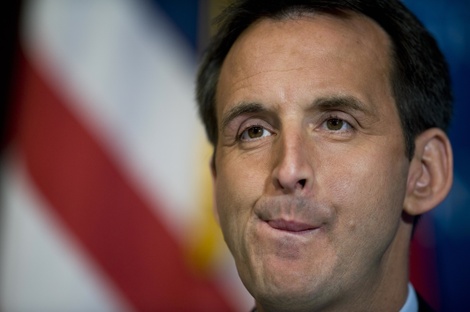 In my view, this is the right Republican approach to the Obama phenomenon:
"Say what you will about Barack Obama, and I say a lot of negative things about him," Pawlenty said. "People gravitate when you've got something positive to say."
Merely throwing the kitchen sink at the Democrat does not resolve the critical problem of why anyone at this point should positively vote Republican.
In fact, the nastiness and negativism helps remind people why they became disillusioned with the GOP in the first place. Still, the policy detail is not that deep at this point:
Gov. Pawlenty suggested Republicans should consider taking the lead in creating online higher-education programs that would allow students to receive a college education at 70% to 90% less cost than current average tuitions. He cited changes already under way at the University of North Carolina, which is headed by a former Clinton White House official, Erskine Bowles.
Some kind of Cameron-style fusion of more spending restraint, tax and entitlement reform, more foreign policy realism, and more reformist measures in health, education and the environment will emerge at some point. On paper, McCain could do this. In reality, he cannot represent a new generation when he's obviously the old one. Still, Pawlenty as veep strikes me as the shrewdest pick for the old warrior, combined with a dramatic convention-time pledge for a one-term reform presidency, to be inherited by the young guy from Minnesota.
(Photo: Mark Wilson/Getty.)