The Largest Freehand Drawing In The World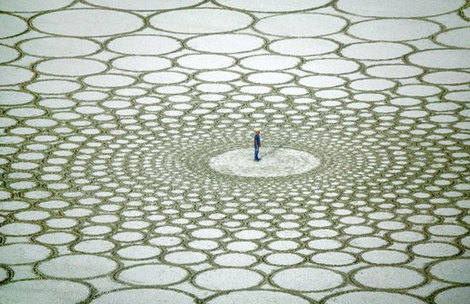 Jim Denevan makes massive sand drawings:
From the ground, these drawn environments are experienced as places. Places to explore and be, and to see relation and distance. For a time these tangible specific places exist in the indeterminate environment of ocean shore. From high above the marks are seen as isolated phenomena, much like clouds, rivers or buildings. Soon after Jim's motions and marks are completed water moves over and through, leaving nothing.
One of his recent pieces was three miles across. It took 100 miles and eight days of walking to complete, and has been called "the largest freehand drawing in the world." Rain washed it away the next week.