Planet Earth - From Space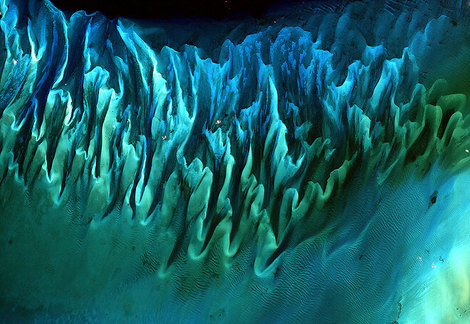 The photo above is a
satellite image is of the dunes of sand and seaweed, sculpted by the ocean currents [off the Bahamas]. The fluted, underwater dunes are formed in much the same way as sand dunes in deserts.
Environmental Graffiti had a great idea:
The images you see below were taken at the turn of the Millennium, when NASA's scientists had a brilliant idea: to scan through 400,000 images taken by the Landsat 7 satellite and display only the most the most beautiful. A handful of the best were painstakingly chosen and then displayed at the Library of Congress in 2000.

We thought that it, in case you missed the exhibition, it would be amazing to dig up these images and provide some wallpapers for you to download. All images are used courtesy of NASA.
An image of Bolivia is after the jump. Others are here.