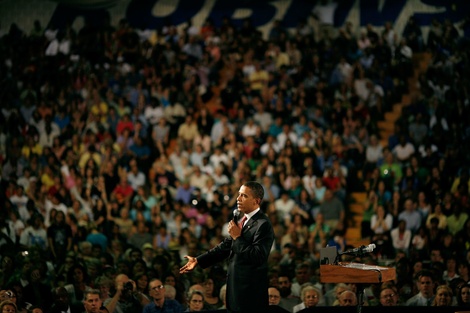 My English gut tells me Ambers is right:
Obama's trip to Europe will be a huge event...maybe as big as his convention, maybe as big as a debate. Sheer curiosity will translate into enormous crowds, even as most of Obama's events will be small and pooled. The European press will climax, repeatedly.
I predict an extended media orgasm as well. Europeans are desperate to fall in love with America again. This young, black Kennedy figure will likely create iconic scenes - reminding the old of the America that once inspired them and the young of the capacity for change that America still contains. And it's simply great theater.
One thing we have learned about the Obama campaign that has been overlooked: they understand theater. In fact, no campaign has understood theater this way - and its powerful relationship to politics  - since Deaver managed Reagan.
(Photo: Obama in Virginia this week by Chip Somodevilla/Getty.)