Bill Kristol vs Chuck Hagel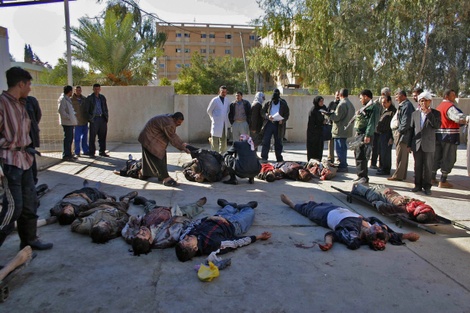 Back to the book Bill Kristol co-wrote on Iraq. In it, he takes aim at Senator Chuck Hagel. This particular passage stood out:
Iraq's uncertain future, as opposed to its totalitarian present, has become the principle [sic] concern of many realists. "What comes after a military invasion?" Senator Chuck Hagel would like to know. "Who rules Iraq? Does the United States really want to be in Baghdad, trying to police Baghdad for twenty or thirty years?"
Kristol goes on to mock this question with his usual assurance:
Predictions of ethnic turmoil in Iraq are even more questionable than they were in the case of Afghanistan.
Unlike the Taliban, Saddam has little support among any ethnic group, Sunnis included, and the Iraqi opposition is itself a multi-ethnic force... [T]he executive director of the Iraq Foundation, Rend Rahim Francke, says, "we will not have a civil war in Iraq. This is contrary to Iraqi history, and Iraq has not had a history of communal conflict as there has been in the Balkans or in Afghanistan..."
Look: we all get things wrong. But that means a responsibility to set them right. Has Kristol ever publicly acknowledged or taken responsibility for these flatly wrong assertions of his, assertions that led to a war that gave us the slaughter, ethnic cleansing, torture and displacement of hundreds of thousands of people? This isn't a rhetorical question. If someone can point me to any piece of writing in which Kristol does take personal responsibility for these profound errors of judgment, I will gladly post it.
(Photo: the sectarian murders Kristol said couldn't happen, in Baquba, by Ali Yussef/AFP/Getty.)