An Ad Campaign For The Veil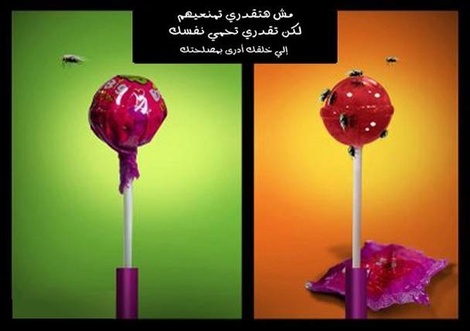 The money quote:
"You won't be able to stop them (i.e. guys), but you can protect yourself. He who created you knows what's best for you!"
James Dobson would love a Christianist version. Sandmonkey despairs:
Oh, where do I begin? Should I start with the "Men are flies" example, the MEN who made this employed, describing themselves?
Or with the complete disregard to personal responsibility of men when it comes to sexually harassing females theme  of the ad? Or Is it with the paternal tone that god, who created you naked, really really wants you covered for your protection from his other perfect creation? Or should I not even bother, given that there is a joke there about lollipops and licking that I am simply not man enough to make on this blog? Yeah. maybe I just won't bother.
One commenter:
"I'm a veiled woman and I liked the ad. I didn't see it as offensive at all. I saw it as a creative way of enticing women to wear the hijab. It's not protecting them from men only arrogant men would think it was about them. The hijab is protecting women from many evils of the world, including any evil thoughts they themselves may have!"