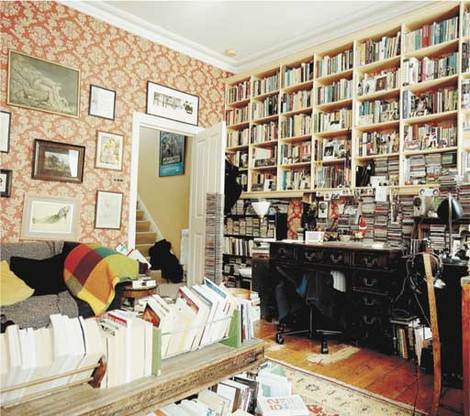 The Guardian has a lovely write-up, with lots of photographs, from Rudyard Kipling to AS Byatt. The one above is Hanif Kureishi's, who writes:
Above the desk there's a very sexy picture of Kate Moss. I think every writer needs a picture of Kate Moss in their room as an inspiration. Kate is from South London like me, and, indeed, like my girlfriend, also a Croydon girl. I've got thousands of CDs because I always listen to music when I'm writing. I've done it since I was a teenager, when I first started writing in my bedroom in Bromley. Silence makes me feel rather uncomfortable, nervous.

The flock wallpaper was in the house when I got here, I've kept it, and indeed fought to keep it, because it is like being in an Indian restaurant, and I always wanted to spend all of my life in an Indian restaurant.
Frank Wilson liked Virginia Woolf's best.