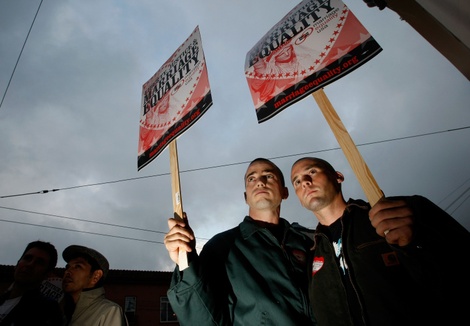 The usual suspects mocked the LAT headline on a poll showing a clear majority opposed to marriage equality in California. But Mickey may be wrong yet again. The LAT poll showed a 54 - 35 point loss for marriage rights for gay couples. It depressed me at first blush, but a little Googling revealed that most initiatives in California need a strong 55 percent minimum at this stage to survive in the fall. There's always a drop-off apparently. So the initiative may be closer than the poll suggested.
Maybe a lot closer. The first reason for optimism is a new Field poll, a little larger than the LAT poll, that shows an actual majority in favor of marriage equality: 51 - 42. The poll was taken after the court decision. This is the first ever majority for same-sex marriage in a California poll, and it's a solid one.  What's driving the dramatic shift upward toward support for inclusion? You guessed it:
Californians age 18-29 favor the idea of allowing gay and lesbian couples to marry by a greater than two to one margin (68% to 25%). Those in the 30-39 age group also approve of such marriages by  24 percentage points. However voters age 65 or older disapprove by a wide margin (55% to 36%). 
The next generation doesn't simply approve of gay marriage; it does so by a massive majority. The poll suggests an Obama-Clinton-style generation gap - and an Obama candidacy this fall will surely increase the number of these demographics in the California voting this fall.
The key to the shift can be seen among independents. They fall much closer to the Democrats than to the Republicans on this issue (61 percent of independents and 67 percent of Democrats back marriage equality, while 69 percent of Republicans oppose it). And the attempt to label this reformist measure as "far left" has not caught on:

Voters who describe  themselves as middle-of-the-road in politics approve of allowing same-sex marriage 53% to 35%.
It was also striking to me that Latinos support marriage equality by 49 - 42, a narrower gap than among whites, but a remarkable achievement if it's true. The upshot is that the initiative has only 43 percent support in this poll. Very few initiatives with that level of support eventually succeed.
But the real reason for optimism is the timing of civil marriages. It now seems likely that the first civil marriages in California will take place in June. By the fall, thousands of Californians will be married. The initiative will be asking voters to do two disruptive things: change the state constitution and retroactively impugn these already-existing marriages. This is a tall order. And it's one more reason that the gay movement needs to understand that this referendum is the most important in the history of our civil rights struggle. To win a democratic vote in favor of marriage equality in the most populous state in the country is a victory unlike any we have had before. We need to organize, raise funds, raise awareness and not be intimidated.
Yes we can.
(Photo: Justin Sullivan/Getty.)