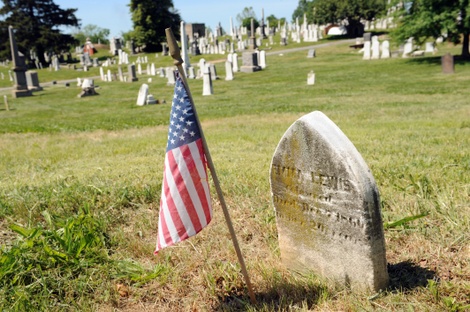 David Carr today:
Even as we celebrate generations of American soldiers past, the women and men who are making that sacrifice today in Iraq and Afghanistan receive less attention every day. There's plenty of blame to go around: battle fatigue at home, failing media resolve and a government intent on controlling information from the battlefield.

According to the Project for Excellence in Journalism's News Coverage Index, coverage of the wars in Iraq and Afghanistan has slipped to 3 percent of all American print and broadcast news as of last week, falling from 25 percent as recently as last September...

The tactical success of the surge should not be misconstrued as making Iraq a safer place for American soldiers. Last year was the bloodiest in the five-year history of the conflict, with more than 900 dead, and last month, 52 perished, making it the bloodiest month of the year so far. So far in May, 18 have died.
(A worn US flag sits infront of a grave marker for the Memorial Day weekend on May 23, 2008 at the Historic Congressional Cemetery in Washington, DC. The US honors its military forces on the Memorial Day holiday 26 May. By Tim Sloan/AFP/Getty Images.)