Could Gordon Brown Be Dumped?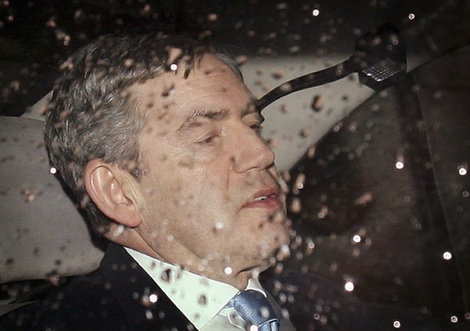 James Forsyth, perhaps a little excitably, reacts to last night's Tory by-election landslide:
A few weeks ago, the idea that Gordon Brown would be challenged for the Labour leadership would have sounded as, if not more, absurd as the idea that the Tories would win Crewe and Nantwich with a majority of nearly 8,000. But now it seems possible if not yet probable. The number of Labour MPs who now look almost certain to lose their seat is more than the number needed to trigger a leadership contest.

Labour is now in freefall; it is hard to remember the last good week for the government and the public seem to have taken against Brown with a passion. Brown was hidden in this contesthis image was on everyone but Labour's leaflets. That, obviously, could not be done in a general.
The Guardian panics:
In scenes reminiscent of New Labour's byelection successes in the 90s, jubilant Tories in Crewe and Nantwich celebrated as their candidate, Edward Timpson, won with 20,539 votes, 49%. The result, on a high byelection turnout of 58.2%, was particularly sweet for the public school-educated Timpson, who brushed off Labour's "anti-toff" campaign to secure the Tories' first byelection gain since 1982.
By "anti-toff", read "anti-elitist." If this swing were duplicated in the next general election (which it won't), the Tories would have five times the seats as Labour.
(Photo: Peter MacDiarmid/Getty.)