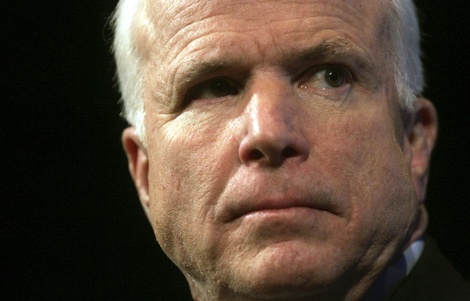 The possibility of talking to Iran's leadership is regarded by the Republican nominee as "unacceptable":
"The belief that somehow communications and positions and willingness to sit down and have serious negotiations need to be done in a face to face fashion as Senator Obama wants to do, which then enhances the prestige of a nation that's a sponsor of terrorists and is directly responsible for the deaths of brave young Americans, I think is an unacceptable position, and shows that Senator Obama does not have the knowledge, the experience, the background to make the kind of judgments that are necessary to preserve this nation's security."
Obama should not, in my view, concede the premise here. He should have a debate about whether in fact it is a good idea for the president of the United States to keep dialogue with our enemies as an option. What you see in McCain's and Bush's rhetoric is an idea that diplomacy and statecraft are somehow about conferring legitimacy on people and regimes anathema to us, as opposed to advancing the West's interests by a variety of methods: force of arms, diplomacy, alliances, etc. They seem wedded to a dramatic rather than pragmatic view of foreign policy.
But the result of Bush-McCain's position these past seven years has been the empowerment of Iran in the region, a vast increase in Tehran's pull in Baghdad, and Iran's rapidly advancing admission to the nuclear club. How could talking actually make things worse than they have gotten under Bush? What I'm saying is just that these are debatable issues - and McCain's desire to rule them out of bounds is an attempt to prematurely shut down a debate the American people have every right to have.
(Photo: Mario Tama/Getty.)