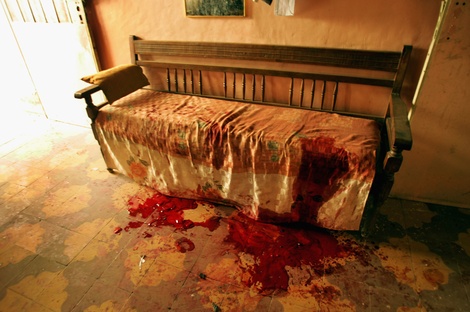 This strikes me as very important news, although it needs to be confirmed as it's coming from Sadrist spokesmen:
Iraq's top Shiite religious leaders have told anti-American cleric Muqtada al-Sadr not to disband his Mehdi Army, an al-Sadr spokesman said Monday amid fresh fighting in the militia's Baghdad strongholds.

Iraqi Prime Minister Nuri al-Maliki demanded Sunday that the cleric disband his militia, which waged two uprisings against U.S. troops in 2004, or see his supporters barred from public office.

But al-Sadr spokesman Salah al-Obeidi said al-Sadr has consulted with Iraq's Shiite clerical leadership "and they refused that." He did not provide details of the talks.
Matt thinks it's a Sadr check-mate against Maliki. I don't know. Just watched Clinton question Petraeus, by the way. Very low-key, to my mind. Anti-war but no fireworks and no soundbites. She behaved as if she still believes she could be president next January.
(Photo: Blood of the victims, from an alleged U.S air strike, is seen on April 8, 2008 in the Sadr City district of Baghdad, Iraq. Today Shiite cleric Moqtada al-Sadr threatened to end a ceasefire he declared on his Mahdi army militia last year which contributed to a significant drop in violence across Iraq. By Wathiq Khuzaie/Getty Images.)