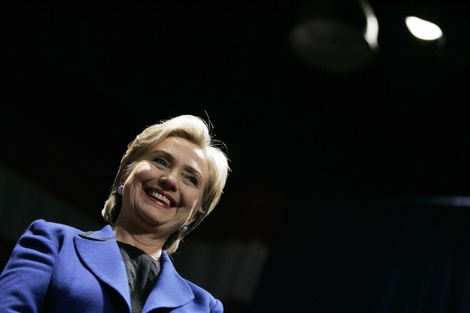 It's done. We all have to endure this:
"This nation is coming back and so is this campaign. ... We're going on, we're going strong, and we're going all the way!"
I couldn't watch it. Sorry. Ambers notes, poignantly:
Even with these HRC leads in TX (narrow) and Ohio (wide), Obama has about an 8 net delegate lead in those two states at this point.
To keep oneself from despair, it does seem to me to be valid (and not just Obama spin) to recall that a short time ago, Clinton was supposed to crush Obama in both Texas and Ohio. Bill Clinton has said publicly that his wife has to win both states to stay in the race. The race will be decided by delegates - and Texas is still extremely close. The caucuses count.
Nonetheless, it matters who actually wins the popular vote in Texas and how big Clinton's win is in Ohio. If she can argue she has decisively won all the biggest states, even if she has no mathematical chance to win the nomination outright, she will have enough of a case to stay in. And this grueling race will go on. This is how the Clintons usually prevail - they grind you down. They don't care what happens to their party or their country (remember the 1990s?). They have no shame and no scruples. They will say anything. But they will never willingly relinquish power or the chance of power. In a free country, that is their right. And I'm not impugning that. But the refusal ever to concede or to champion others or to settle for a mere eight years in the White House is in their blood. You can only defeat them if you treat them as they would treat you. I wonder if Obama can keep his civility and still win.

I just had a Jager shot, and hope to get drunk very soon. So this is my last post of the night. Here's what I'll do in the morning: find out who won the most delegates in the March 4 states, and check someone else's math (yes, I'm not going to get it wrong myself) to see who subsequently has the numbers to win. And then take a deep breath. And say what I think. Right now, emotion clouds the mind. Oh, and Jager.
(Photo: Stan Honda/Getty.)