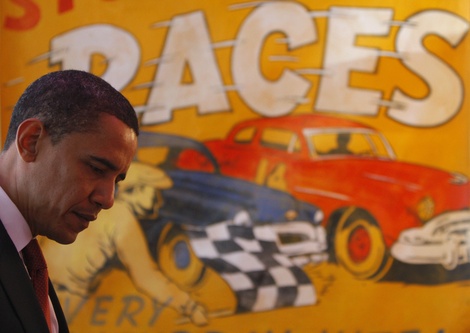 Be careful when interpreting results:
Again, the 59-41 numbers you are seeing after 7 counties have reported are NOT the relevant numbers.  The relevant numbers are the number of delegates each county sends to the state convention. Right now Obama has 62.8% of the delegates apportioned to the state convention - not 59%... this is an important distinction that most seem to be missing...
The current vote tally is 58 percent to 41 percent with 91 percent of precincts reporting. and the voting is more like most primaries than most caucuses:
Instead of the traditional caucus format, most of Wyoming's 23 counties held caucuses conducted by paper ballots, where participants simply placed a check mark next to the name of their chosen presidential candidate and put the slip into a ballot box.
Money quote:
"Wyomingites are pretty independent," Mrs. Dunn said. "We like somebody who speaks like him."
The West has its share of Obamacans.
(Photo: Obama in Wyoming by Emmanuel Dunand/Getty.)