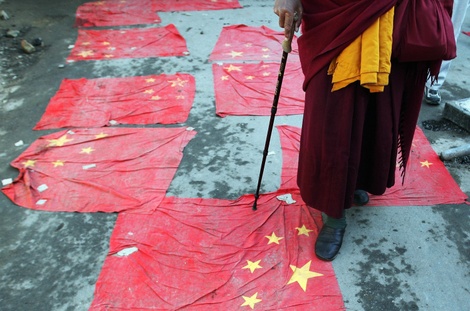 The Economist is the only foreign news organisation with official approval to be in Tibet. The magazine's correspondent writes from his perch in Lhasa:
So far, in this part of the city, the security forces appear to have acted with relative restraint. There are persistent but unsubstantiated reports of Tibetans killed by security forces during the rioting on Friday and Saturday. The Dalai Lama, Tibet's exiled spiritual leader, has spoken of unconfirmed reports of up to 100 deaths. But there are no convincing accounts of the kind of bloodshed involved in the crushing of the Tiananmen Square protests in Beijing in 1989 or in the suppression of the last serious outbreak of anti-Chinese unrest in Tibet earlier that year. With the approach of a deadline on Monday for rioters to surrender themselves, however, some residents fear that widespread and indiscriminate arrests will follow. [...]

By Sunday, the authorities appear to have regained control of the streets. Occasional shots were still being fired by troops in the alleyways (whether in warning or at human targets is unclear). Few residents in this normally bustling part of Lhasa now dare to venture out.

In a sign that the government is feeling more confident that its security measures are working, two representatives of the Tibetan administration's Foreign Affairs Office visited this hotel in the riot-torn area.
They offered to help arrange a flight out if needed, but gave no order to depart. The Economist remains the only foreign news organisation with official approval to be in Tibetwhich was applied for and granted well before the unrest broke out.

If residents are not to starve or run out of that daily necessity, yak butter (used in the tea Tibetans drink), a signal will have to be given soon that it is safe to venture out to buy essential supplies. Even when they give this, the authorities will still want to maintain a conspicuous force in the alleyways. Tensions are unlikely to subside rapidly. There are numerous anti-Chinese protests in what China calls the Tibet Autonomous Region as well as in the adjoining ethnic-Tibetan areas of China. Some of the biggest have occurred around Labrang in Gansu Province, one of Tibetan Buddhism's biggest and most important monasteries. Many Tibetans see the approach of the Olympic games in Beijing in August as an unmissable opportunity to draw attention to their plight.
(Photo: Tibetan Buddhist monk in-exile walk over Chinese National flags as part of a protest in Dharamsala on March 16, 2008. The Dalai Lama condemned what he called China's 'rule of terror' and 'cultural genocide' in Tibet, calling for an international probe into unrest in his homeland. By Manan Vatsyayana/AFP/Getty.)